Aruba AP-518 Wi-Fi 6 access point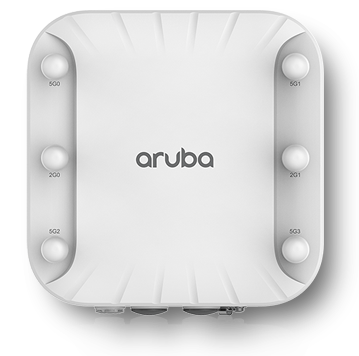 The Aruba 518 Series ruggedized Wi-Fi 6 access point is part of a high-performance portfolio that covers all sorts of use cases and price points. Performance and simplicity matter, and Aruba access points support AI capabilities as well as the latest Wi-Fi 6 standards. The wide variety of models cover deployment in just about any environment. Ruggedized models also support extreme temperature and humidity requirements.
Aruba access points offer the flexibility to manage wireless networks on premises, or in the cloud using Aruba Central.
Outdoor and ruggedized access points
The outdoor and ruggedized access points deliver high performance and range, no matter the weather or environment. You will enjoy seamless connectivity for large public venues, as well as pop-up sites and loading docks. Point-to-point wireless options provide Wi-Fi mesh backhaul and 60GHz speed to adjacent buildings. Aruba ruggedized APs use industrial-rated components and are backed by Aruba's limited lifetime warranty.
The Aruba 518 Series is a hardened access point that delivers high Wi-Fi 6 performance in harsh, weather-protected environments such as warehouses, industrial freezers or enclosures in extreme environments such as stadiums. It delivers 4×4:4SS MU-MIMO capability.
The 518 Series is built to survive in the harshest weather-protected environments. It can withstand exposure to extreme high and low temperatures, persistent (non-precipitant) moisture, and is sealed to keep out airborne contaminants. All electrical interfaces include industrial strength surge protection.
Features
Features include Uplink and Downlink OFDMA, Downlink MU MIMO and cellular co-location. With up to 4 spatial stream and 160 MHz channel capability, the 518 provides groundbreaking wireless capabilities for any application. The 518 series reaches up to 4.8 Gbps wireless data rate at 5 GHz, and up to 2.4 Gbps at 2.4 GHz.
Corporate Armor gives you uninterrupted 5-star service and years of specialization in Aruba's whole family of products. So call us at 877-449-0458, or email us with any and all questions.
Cool things about theAruba AP-518 Wi-Fi 6 access point
AI-powered RF optimization, rich intelligence, and smart management options
Can be managed via cloud or on-premises
Up to 4.8 Gbps wireless data rate at 5 GHz, and up to 2.4 Gbps at 2.4 GHz
High-performance in harsh, weather-protected environments
Check out our original content!