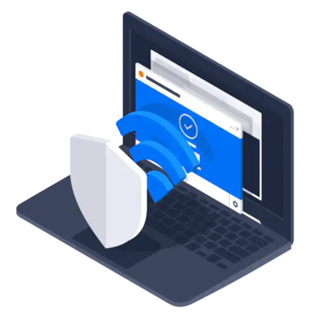 For those who want online freedom
Encrypts your Internet connection at the click of a button for true online privacy
Avast SecureLine VPN is an affordable, easy-to-use way to encrypt your internet connection with a simple click.
What's a VPN?
The thing is, people don't like to be tracked and watched. That's the main reason they use a Virtual Private Network – a VPN. If your device is touching the internet, your internet service provider can see everything you do. Every search, every file you download. Everything. A VPN is an app that keeps your connection private, whether you're connecting to unsafe public Wi-Fi or your network at home.
When you're browsing through a VPN like Avast SecureLine, it encrypts your traffic. No one can see what you do online, nor interfere in any way. What the VPN does is, it creates an encrypted "tunnel" over the internet. A VPN secures the data traveling between you and your destination — anything from a search engine to an online banking account.
This tunnel is created by first authenticating your client with a VPN server. The server then applies an encryption protocol to all data you send and receive.
To ensure each data packet stays secure, a VPN wraps it in an outer packet, then encrypts it through encapsulation. It keeps the data safe during transfer, and it is the core element of the VPN tunnel. When the data arrives at the server, the outer packet is removed through a decryption process.
Avast SecureLine VPN for home
SecureLine has the pedigree of a leading antivirus company behind it. Avast offers basic VPN protection, good speeds, and a notably diverse array of server locations. SecureLine is also a good value when you compare it to much of the competition. On average, annual VPN subscriptions cost $73 a year. Avast comes in at about $60/yr, beating much of the industry on price alone.
Many VPNs cost significantly more. And, Avast offers single-device plans at a discount. You can try SecureLine for free for a week.Avast uses bank grade encryption to protect you against wider network threats, hackers, and scammers. It protects you from hackers on public Wi-Fi, and stops third-parties from tracking your online activities.
You can avoid content restrictions, and enjoy your favorite shows, streams, and websites, from wherever you are in the world.
It's easier than you think!
Many people think it's complex to set up and operate a VPN. But top VPN service providers design their apps to be intuitive and easy-to-use. Just download the software, create an account, and tap a button to connect. Once your VPN has been set up, just pick a country and turn it on. SecureLine runs in the background as you browse. The most noticeable difference is that you should have access to websites you didn't have access to before!
Why not reach out to Corporate Armor, or call 877-449-0458? Avast SecureLine VPN is an excellent, fast, user-friendly solution we'd love to tell you about.
Highlights of Avast SecureLine VPN
Hides your online activities
Doesn't log websites visited or app usage
DNS leak protection
Won't slow down your connection speed
---
Learn more with our original content!