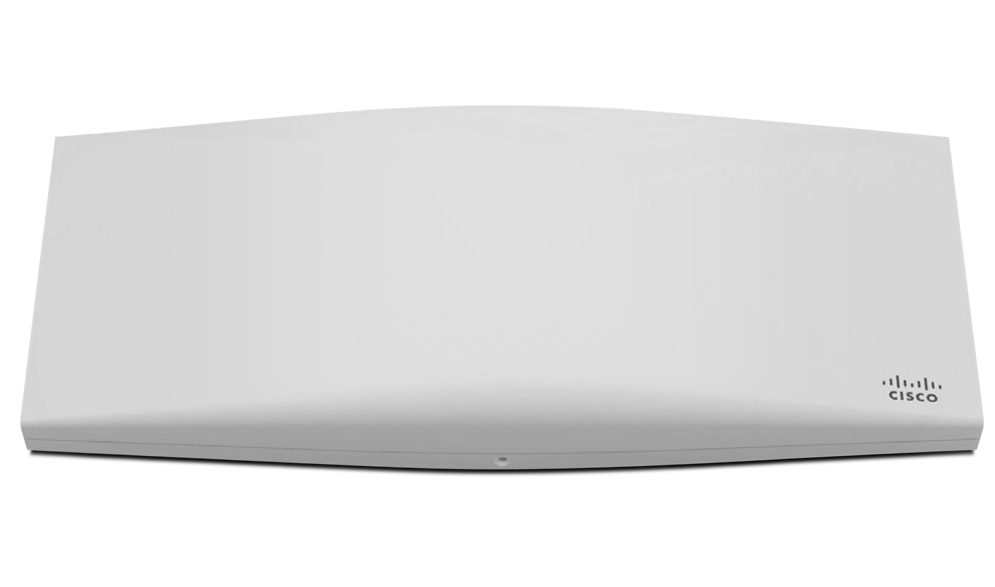 802.11ax 8×8:8 MU-MIMO Wi-Fi 6 Access Point.
5.9* Gbps dual-radio aggregate frame rate
Meraki MR56 Wi-Fi 6 Access Point
The Meraki MR56 is a cloud-based, 8×8:8 802.11ax access point. It truly raises the bar for wireless power and speed. In fact, it's the perfect for next-gen AP for in offices, schools, hospitals, shops, and hotels. And, for high-density settings, MR56 offers high throughput, security, and ease of use at a surprising price!
Under the hood of the MR56
MR56 pushes a 5.9 Gbps* aggregate frame rate. It also has concurrent 2.4 GHz and 5 GHz radios. Plus, you'll enjoy a huge increase in # of connections over 802.11ac.
The MR56 effortlessly combines cloud management, powerful hardware, and rigid security. As a result, the it makes a great platform for the most demanding uses. High-density use cases and bandwidth intensive applications like voice and high-definition video? No problem!

The MR Enterprise license includes Cloud-based centralized management and network-wide visibility and control.
It is massively scalable, up to tens of thousands of APs. Plus, you also get out-of-band control plane, meaning your network stays up if connection to cloud is lost.
Additionally, this license features powerful multi-site management tools, automatic RF optimization, network monitoring and alerts.
Also, there's seamless firmware and security updates, and a highly intuitive browser-based dashboard.
The MR Advanced license includes a device (Enterprise) license for an MR access point. This is in addition to the Umbrella DNS security and content filtering integration.
View all Meraki lines.
Configure Your MR56


Cisco Meraki MR-56 with Enterprise License:
Cisco Meraki MR-56 with Advanced License:
---
Renew your Cisco Meraki Access Point License
Cisco Meraki MR-56 Enterprise License:
Cisco Meraki MR-56 Advanced License:
---

Meraki MR56 WiFi 6 Highlights
It will surprise nobody that the MR56 shares Meraki's simple set-up, smooth and easy roaming, lowered battery usage and huge number of total users! Have questions? Call 877-449-0458, or email us at [email protected].
802.11ax Access Point
Up to 5.9 Gbps Aggregate Frame Rate
2.4 GHz & 5 GHz concurrent radios
8×8 radios = Huge # of Connections
Increased Energy Efficiency
Great for High-Density Deployments
Cisco Meraki MR56 Accessories
---
Learn more!