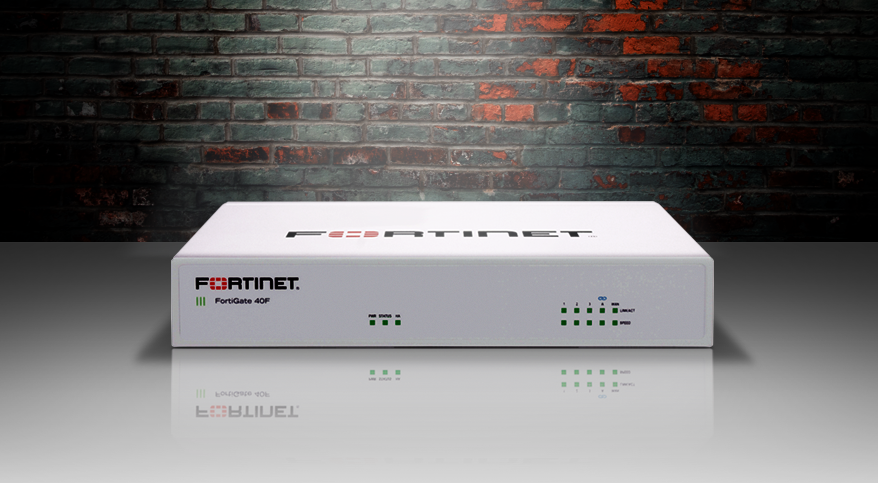 Fortinet's FortiGate 40F Next-Gen firewall is the entry-level model of their "F" series of hotrod security appliances.
And, just like the larger members of the F series, this little guy is very easy to set up and manage. In common with the other F series appliances, this one is a SECURE SD-WAN firewall.
And, at Corporate Armor, the FG-40F starts at just $361. We have all FG-40F licensing and hardware options for less, and we can answer any and all of your Fortinet questions!
FortiGate 40F is SD-WHAT?
SD-WAN firewalls are a Fortinet innovation. Basically, think of yourself being in a castle, behind a very strong wall. The FortiGate 40F Next-Gen firewall protects what's inside your perimeter, and what's on the freeways leading out of it, too.
It's a big deal because SD-WAN allows offices to connect over the internet. And, when you have SD-WAN built into your firewall, you can do so quite securely. Additionally, an SD-WAN firewall eliminates the need for a dedicated network connection.
SD-WAN gives extra secure, quick access to cloud-connected applications so important these days. For example, think of Dropbox, GitHub, Salesforce, and Office 365.
Under the hood
This is all possible because of the FG-40F's new, ridiculously fast FortiSoC4 processor. Actually, it's the same one used in all the F series, even the enterprise models! That power gives you management which is granular and detailed, but still clear and intuitive.
And, all SD-WAN FortiGates are managed in the same Management Center, by the same Fortinet Security Fabric. From it you can manage your entire network, with all devices, in one window. Terms like "zero-touch deployment," and "do-it-yourself," mean it's super-easy to get up and running, and stay that way.
This kind of power-plus-usability is possible with technology like the FortiSoC4. As a matter of fact, it's easy to deploy even for those who have limited IT staff.
FortiGate 40F by-the-numbers
The FG-40F blasts along at 5 Gbps Max Firewall Throughput. In a firewall meant for small offices, that's pretty crazy. There's also 800 Mbps of NGFW Throughput, and 600 Mbps of Threat Protection Throughput. By the way, that is currently an industry-leading number.
Who uses the FG-40F?
The FortiGate 40F can handle up to 10 FortiAP access points, or 5 in Tunnel Mode. This means it is an SMB firewall, but it's a FAST SMB firewall! It's ideal for small to mid-sized businesses. FG-40F is designed for up to 10 concurrent users.
In conclusion, Fortinet gives you an unusual degree of flexibility in your licensing options. As a result, you can license up or down according to your needs. This makes FG-40F surprisingly scalable. As a result, you will end up with the security bundle that's right for you!
So, call Corporate Armor at 877-449-0458, or reach out at [email protected]. We have certified Fortinet specialists on staff, and we can't wait to server you!
FortiGate 40F highlights
5 Gbps Max Firewall Throughput
Up to 10 users
Supports up to 10 FortiAPs total, 5 in tunnel mode
800 Mbps of NGFW Throughput
600 Mbps of Threat protection Throughput
Built-in SD-WAN ready
And check out our "Firewall Roundup" between FortiGate and Meraki MX series here!
Corporate Armor is very well-versed with both Fortinet and Meraki. We can happily recommend both in a broad way, but knowing what delineates them might be helpful when it comes time for you to shop for a firewall. Many of our top-selling models come from these two companies. The FortiGate FG40F, from $362, the FG60F, from $508, the Meraki MX64, from $350, and the Meraki MX68, from $586, are hugely popular.
| | | |
| --- | --- | --- |
| Comparables | FortiGate 100E | Meraki MX100 |
| Firewall Throughput | 7.4 Gbps | 750 Mbps |
| VPN Throughput | (SSL VPN) 250 Mbps | 500 |
| IPS | 500 Mbps | 750 Mbps |
| Users | 500 | 500 |