(Special thanks to author Barbara Viscovic, from ISL Online. Contents have been edited for length. Please enjoy this very interesting and informative read!)
Corporate Armor is the proud North American partner with ISL Online.We can have you reaching across the globe with world-class remote access starting at just $139 per year. And, if you see yourself as an occasional user, there is a pay-per-use option, too. Read even more about ISL Online here.
We are excited to announce that ISL Online has been named a FrontRunner for Remote Support Software. The announcement was made by Software Advice, a Gartner company. Ratings from real software users put ISL Online ahead of Teamviewer and many other well-known remote support software products. They were rated for usability and customer satisfaction.
"We know that only products that earn top user ratings make the cut as FrontRunners. We are very proud that our customers recognize the quality of our service and the hard work behind it. Feedback from our customers is extremely important in helping us develop ISL Light remote support in the right direction, adapting and updating its features to meet the changing needs of today's flexible business environments," says Jure Pompe, CEO of ISL Online.
Making an informed decision based on real user experience
FrontRunners is a program designed to help businesses better evaluate the benefits of software. It is especially geared to smaller businesses. The goal is to decide which solution might be best for their business.
FrontRunners evaluated ISL Online along with 51 other remote support solutions. However, only those with the best end-user reviews and product data made the list. To date, ISL Online has received 257 reviews. They have earned a total of 4.74 out of 5 stars.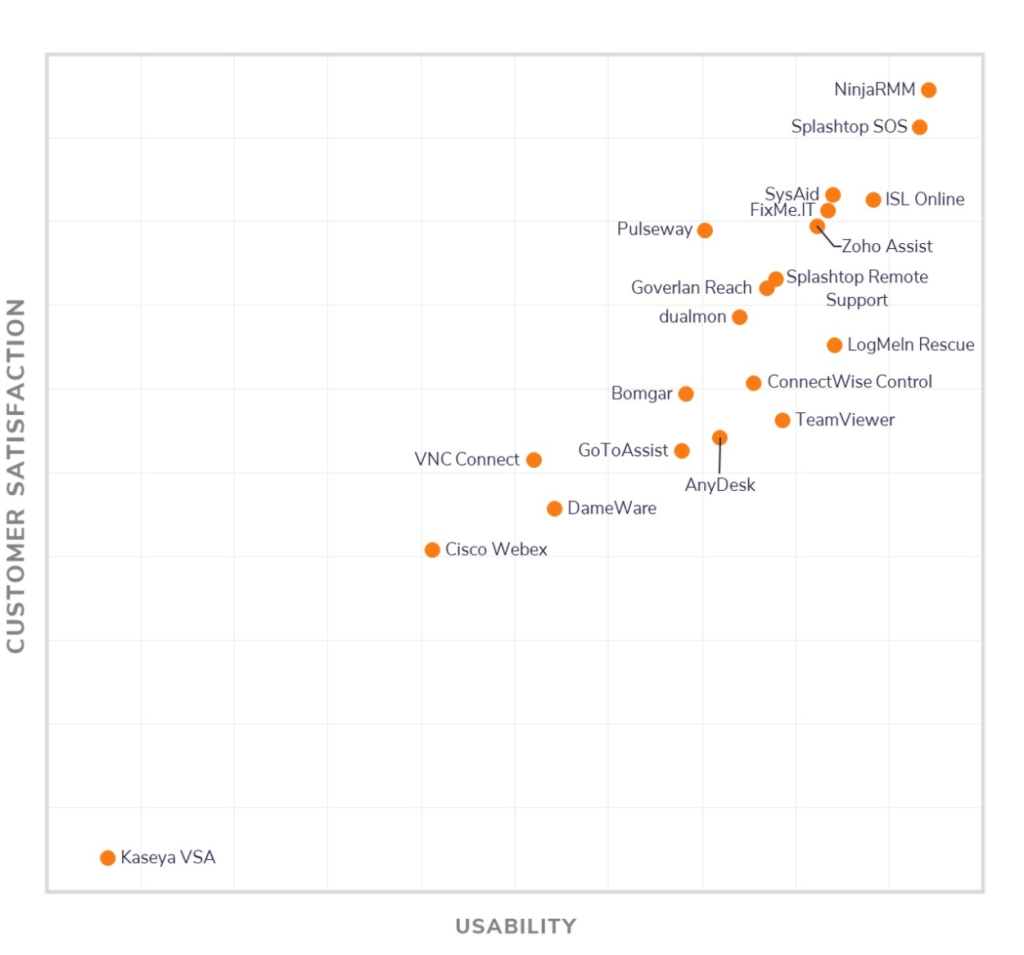 See the full FrontRunners quadrant
ISL Online among top remote support of 2021, says Digital.com
Recently, ISL Online was named the best remote support software by Digital.com. Their research team conducted a 40-hour evaluation of over 70 solutions. The research experts evaluated systems with essential features and robust reporting capabilities. Then, they selected the 15 winning solutions.
About ISL Online
ISL Online is a remote support solution for virtually all industries. This includes healthcare, information technology, universities, government and banking. It's used by IT professionals from around the world who describe it as very easy to use and reliable. Key features include screen sharing, user management, and unattended access to remote computers. In addition, there's chat messaging, session recording, WakeOnLAN and RDP routing. ISL Online has been providing reliable remote support services since 2001. www.islonline.com
About Software Advice
Software Advice is the leading online service for businesses navigating the software selection process. They provide free, personalized recommendations to companies of all sizes. Software Advice also features objective research by industry experts and reviews from validated users. This saves buyers time and resources. Software Advice is a Gartner company. For more information, visit www.softwareadvice.com.
Disclaimer: FrontRunners constitute the subjective opinions of individual end-user reviews, ratings, and data applied against a documented methodology. They neither represent the views of, nor constitute an endorsement by, Software Advice or its affiliates.
About Digital.com
Digital.com reviews and compares the best products, services, and software for running or growing a small business website or online shop. The platform collects twitter comments and uses sentiment analysis to score companies and their products. Digital.com was founded in 2015 and formerly known as Review Squirrel. To learn more, visit https://digital.com/.
If you would like a free trial of remote access and control software, CLICK HERE! To learn more about ISL Online and explore its features reach out to Corporate Armor! You can also live chat or call 877-449-0458. Thanks for reading!
ISL Online differentiators:
Multi-monitor support and quick screen toggle
Dedicated landing pages
Invitations via email /telephony
File Exchange and Shared Clipboard
Real-time chat and audio
Unattended access to remote computers
Session Recording