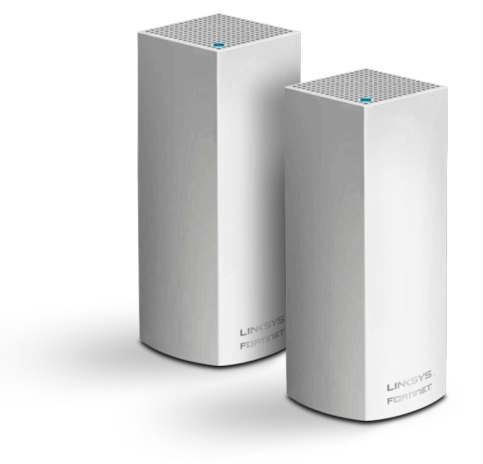 Linksys HomeWRK for Business – Secured by Fortinet
Combining the respective expertise in security and connectivity, Fortinet and Linksys have partnered to deliver an enterprise networking solution for remote and hybrid workers. It's called Linksys HomeWRK for Business – Secured by Fortinet.
It's designed to enable organizations to improve productivity, optimize user experience, and maintain enterprise-grade security for employees working from home.
Linksys HomeWRK for Business delivers a secure and reliable network connection for both corporate and personal needs in one integrated unit. The solution provides remote workers with a reliable mesh Wi-Fi technology, prioritized for corporate communications and collaboration tools.
Single device for fast corporate and home networks
Built with the latest Wi-Fi 6 tri-band technology and Linksys' powerful Velop Intelligent Mesh™ software, Linksys HomeWRK for Business ensures a blanket of fast and consistent Wi-Fi coverage and seamless roaming at home.
Now for the Fortinet part…
The solution is built with the latest FortiOS and security protection from FortiGuard services to safeguard against cyber threats introduced by home networks and automatically blocks suspicious malware, prevents intrusions, filters harmful content, and more.
Summary
Protected by the latest Fortinet security and FortiGuard services, your employees can enjoy the same security at home that they do on-premises to protect sensitive corporate information from threats.
Linksys HomeWRK for Business – choose yours
The quality tri-band mesh Wi-Fi system helps your employees enjoy a blanket of coverage and seamless roaming to eliminate weak connection and dead spots at home.
Simple plug-and-play hardware and smart mobile app help employees create a reliable home network in minutes without IT intervention or complicated wiring.
And how cool is this!?
Employees have complete ownership and confidentiality of their personal and guest networks, separate from the corporate networks. IT has no visibility to employees' private network activities and devices.
Linksys HomeWRK empowers IT to prioritize traffic for corporate applications, such as Zoom and Microsoft Teams, to improve employees' online meeting experience from home.
And Corporate Armor gives you uninterrupted 5-star service and years of specialization in Fortinet's whole family of products. So call us at 877-449-0458, or email us with any and all questions.
Linksys HomeWRK for Business – Secured by Fortinet
Three Gigabit LAN Ports + One Gigabit WAN Port
1.4 GHz Quad-Core Processor
Next-Gen OFDMA Technology
4×4 MU-MIMO n Wi-Fi 6 with Velop Intelligent Mesh™
3.5x Better Performance than an AC Router
40 Devices per Node
Speed up to 4.2 Gbps (AX4200)
View all Fortinet lines.
---
Learn more