With the recent Coronavirus outbreak, many businesses were forced to adopt telework policies rather quickly. Because of this, a lot of these companies had to rely on the home user to provide their own security. That can be scary for businesses. Most home users do not have the same levels of security on their home network as their office network. Sure, you can set up a VPN to make sure that connections back to the office network are secure. But this doesn't secure all traffic. What happens when an employee disconnects from the VPN? What happens when the employee stores sensitive information on their home network, unprotected? If you are going to have teleworkers, you need to have a way to protect your data, and equipment in the employee's home. Luckily, Cisco Meraki has the answer with the Z-Series telework gateway.
About the Meraki Z3
The Cisco Meraki Z-Series teleworker gateway is an enterprise class firewall, VPN gateway, and router. With the Meraki Z3, administrators can deploy network services including VoIP and remote endpoints with automatic, zero-touch provisioning. All Meraki devices are managed via the Meraki cloud, with an intuitive browser-based interface. Since the Z-series is self-configuring and managed over the web, you can rapidly deploy at remote locations without any assistance from end-users. Meraki Cloud services monitor all devices 24×7 and deliver real-time alerts if any device encounters a problem.
Under the Hood
The Meraki Z3 comes with 4 standard GbE ports, and 1 PoE enabled port. It also has 1 Gbe RJ45 WAN port, and 1 USB port for cellular failover. The Z3 also has dual-concurrent 802.11ac Wave 2 radios with up to 1.3 Gbps data rate. The Z3 has a stateful firewall throughput of 100 Mbps, and a maximum VPN throughput of 50 Mbps.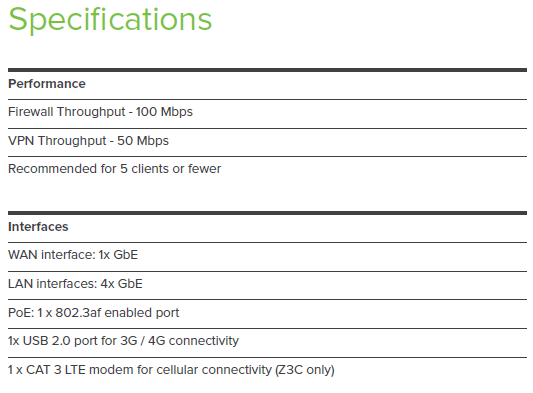 Meraki Z3 Setup
The Meraki Z3 is a desktop form factor. It can easily be placed on a computer desk. It weighs less than a pound, and is roughly 6 inches wide and 10 inches long. So, it won't take up a lot of space. This makes it convenient to setup and plug in your devices. Especially if you are using a VoIP desktop phone. The Meraki Z3 can provide power to your phone using the PoE port. The Z3 does come with a 50W power adapter. However, you will have to buy the power cord separately. Luckily, it uses a standard IEC power cord. If you have one laying around your home or office, great. If not, these are universal and relatively cheap. You can also purchase the desktop stand separately if you'd like to have the Z3 vertical standing.
Conclusion
The Meraki Z3 is ideal for companies that need to extend protection beyond the office, into the homes of their remote workforce. Because it is cloud-managed with zero-touch provisioning, all you have to do is ship the device to your users, and have them plug it in. As soon as it is online, you will see it in your Meraki cloud dashboard, and you can begin to manage the Meraki Z3 immediately. The Z3 can also be used in small branch locations of 5 users or less. If you would like to know more about the Meraki Z3, or any other remote work solution, contact the team at Corporate Armor. Our security experts can answer any questions you may have about the Z3, or any other Meraki device.