APC UPS and Surge Protection systems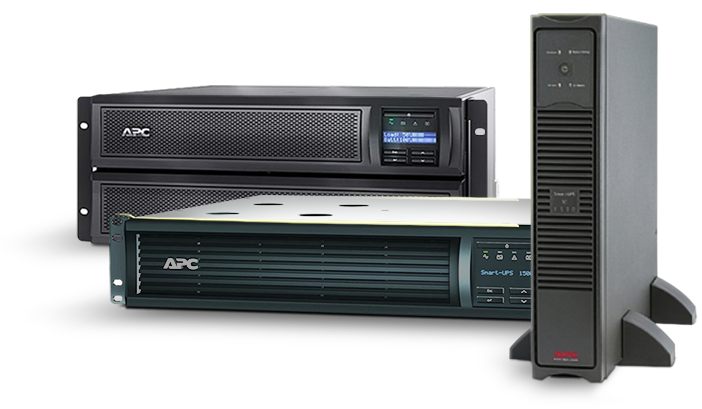 From battery backups that safeguard against outages, to full-scale data center infrastructure, from surge protection and power conditioning to rack mounts and a host of other accessories: APC can help your home and business become more efficient, reliable, and connected.
In a nutshell, APC keeps the power on, and the data flowing. The name APC is synonymous with high-quality UPS products. And the breadth of the APC line is impressive – with the Smart UPS uninterruptible, network-grade power backups leading the way. There's also Symmetra power modules, UPS batteries, Data Center modules, control software, rack mount kits, and every kind of accessory. APC truly can power and protect everything from the home to the datacenter.
They produce everything from home-sized outlet strips to industrial power conversion and backups that you can walk in to. APC also delivers data center management software, rack mount units, accessories, power distribution hardware, and a host of services to make it all work properly. They even have a category of cooling products.
Rock-solid reliable
Don't waste time trying to get by with a lesser UPS or one from a company that won't back up its' product (Homeowner's insurance will-NOT help if you/your equipment suffers electrical loss/damages in most cases). You owe it to yourself to protect all of your equipment, all of the time.
APC UPS systems can carry your power load without breaking a sweat. APC units deliver excellent power for their size, and they have a nicely intuitive interface that gives you pinpoint control.

Features
APC has a very large offering of products and capabilities, but they are best known for their power conversion and backup solutions. They really have something for every use case. And within this category, the Smart UPS series is probably their most well-known line.
One feature that stands out on the APC Smart UPS series is APC's SmartConnect technology. This allows your UPS to be cloud-enabled. That means you can login via a secure portal via any internet-connected device. Then you can view the status of your UPS, receive notifications, get firmware updates and more. So for those who don't have time to monitor the UPS, this can be quite valuable. In addition, the UPS also has both line interactive topology (via an automatic voltage regulator), and uses a clean pure sine wave form for output. This makes it compatible with most any computer or audio gear.
Companies from every industry rely on APC – Schneider Electric to keep their data center running. APC uninterruptible power supply solutions, data security, and surge protectors are the only options when maximum availability and guaranteed uptime is non-negotiable.
We're excited about APC, and we'd love to tell you more about them. So, why not give Corporate Armor a call at 877-449-0458, or reach out at [email protected]?
APC Smart UPS and Symmetra highlights
Adjustable voltage sensitivity
Automatic restart of loads after UPS shutdown
Adjustable voltage sensitivity
User-replaceable batteries
---
Check out our original content!