Aruba 510 Series Wi-Fi 6 access point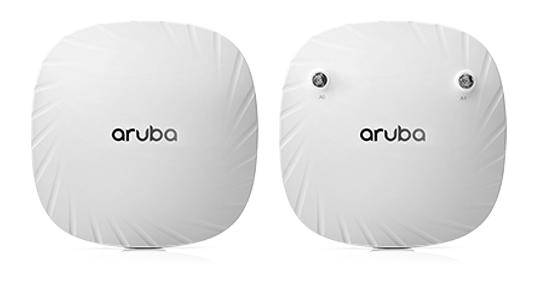 The Aruba Networks 510 Series Wi-Fi 6 access point is part of a high-performance portfolio that covers all sorts of use cases and price points. It is Aruba's most budget-friendly Wi-Fi 6 access point. Performance and simplicity matter, and Aruba access points support AI capabilities as well as the latest Wi-Fi 6 standards.
Aruba access points offer the flexibility to manage wireless networks on premises, or in the cloud using Aruba Central. The 510 series consists of the AP-514 (external antennas) and the AP-515 (internal antennas).
Indoor access points
Not all indoor environments are the same. Because of this, Aruba Networks access points offer among the widest range on Wi-Fi 5 and Wi-Fi 6 to deliver high performance, efficiency, and security.
They use Aruba ClientMatch, OFDMA, MU-MIMO, and TWT to maximize network capabilities. This also allows for multiple high-bandwidth connections at any given time. The indoor APs also include support for Zigbee and Bluetooth to simplify the deployment and management of IoT services. Plus, Aruba Air Pass provides seamless transitions from cellular to Wi-Fi for data and voice.
Performance
The 510 series is designed for mid-range density deployments like office spaces, training and meeting facilities, and hospitals. When deployed with an Aruba Mobility Controller, it offers centralized configuration, data encryption, and policy enforcement. It will also give you network services and distributed and centralized traffic forwarding.
In controllerless (Instant) mode, the controller function is virtualized in a cluster of APs. As the network grows or requirements change, Instant deployments can easily migrate to controller-based mode.
The 510 Series has some pretty impressive features foe an access point in its' price range. It pushes a real-world frame rate of 2.69 Gbps. It also handles up to 512 associated clients per radio.
Wi-Fi 6 support for OFDMA, MU-MIMO, plus Client Match means the 510 Series can handle multiple clients on each channel, regardless of device or traffic type. And ClientMatch continuously monitors the health of all clients connected to each access point, intelligently grouping them.
Aruba hugely simplifies network opertaions and improves IT, user, and IoT experiences with enterprise connectivity that's intelligent, fast, and secure. It's also affordable.
Corporate Armor gives you uninterrupted 5-star service and years of specialization in Aruba's whole family of products. So call us at 877-449-0458, or email us with any and all questions.
Cool things about the Aruba Networks 510 Series Wi-Fi 6 access points
2.69 Gbps maximum real-world speed (HE80/HE20)
Built-in technology that resolves sticky client issues for Wi-Fi 6 and Wi-Fi 5 devices
Can be used to establish a secure SSL/IPSec vVPN tunnel
Check out our original content!