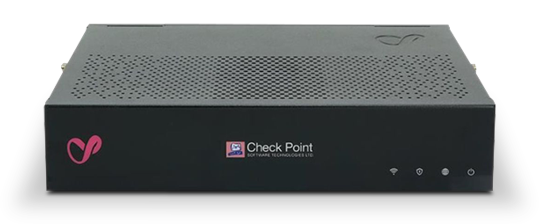 Check Point 1570 Next-Gen firewall
Suppose you're in a real zero-trust, high-traffic environment. You have multiple roaming users where not only east west but north south traffic is huge. You're required to monitor every traffic flow, in multiple branch offices. They must be able to connect centrally, all the while being easy to monitor. Oh, and you need to be able to defend against newly-created attacks. Are your demands starting to outgrow the capabilities of a desktop, SMB firewall? Not if it's theCheck Point 1570 Next-Gen firewall!
It's important to understand that Check Point's focus is on prevention rather than detection. In other words, blocking known and unknown cyber-attacks to ensure business continuity.
Their Advanced Threat Prevention is packaged with zero-day protection and next-generation firewall technologies. It includes application control, advanced URL filtering, IPS, antivirus, anti-bot. In addition, there's email security, policy management, monitoring and event management.
The Check Point 1570 Next-Gen firewall boasts stateful firewall inspection capability from Layer L3-L7. And, among other excellent features, are its' Application Control, URL Filtering, and IPS/IDS.
Additionally, SandBlast Threat Emulation and SandBlast Threat Extraction stop Zero-day attacks in their tracks.
Highly customizable
The Check Point 1570 is not intended to be as plug-and-play as some other vendors. However, if you decide to simply use the default setting, you can be up and running in just a minute or two. Check Points are devices you build around and customize into your environment. And that customization is the beauty of the Check Point 1570. The thing is, you can use the defaults if you like. But, if you do need to tune the system to do something just for your environment, then you can find a way to do it with the Checkpoint. This granularity also gives you better visibility into your environment than many other vendors.
By the numbers
1570 Gateway offers 500 Mbps of threat prevention performance. It also delivers maximum firewall throughput of 2.8 Gbps. Next-Gen firewall throughput is 970 Mbps, and IPS Throughput comes in at 1.05 Gbps.
The 1570 is powered by Check Point's R80 release. R80 is their exceptionally advanced security management software. It includes multi-layered next-generation protection from both known threats and zero-day attacks using their SandBlast™ Zero-Day Protection. Plus, it gives you antivirus, anti-bot, IPS, app control, URL filtering and identity awareness.
Choose Your 1570
Firewall PLUS Sandblast and Direct Premium Support:
Firewall PLUS Sandblast and Direct Premium Pro Support:
Firewall PLUS Sandblast and Collaborative Premium Support:
Firewall PLUS Sandblast and Collaborative Premium Pro Support:
Why not give us a call at 877-449-0458, or reach out at [email protected]? We would love to help you decide what sort of security solution is a perfect fit for you. And we have a great deal of experience as a Check Point partner!
At a Glance
| | |
| --- | --- |
| Firewall Throughput | 2.8 Gbps |
| NGFW Throughput | 970 Mbps |
| IPS Throughput | 670 Mbps |
| Threat Protection | 1.05 Gbps |
View all Check Point lines.
---
Read more!