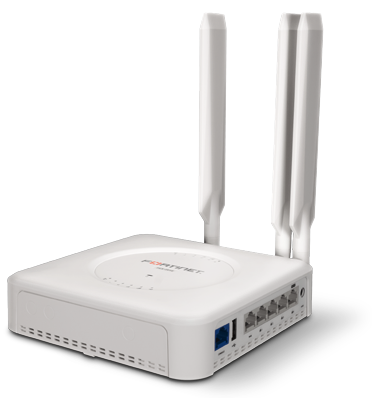 FortiExtender 211E
The Fortinet FortiExtender 211E is part of a family of 3G/4G Wireless WAN extenders. This is not to be confused with Wi-Fi. FortiExtender integrates with FortiGate firewalls to provide a secure 3G/4G connection.
FortiExtenders are truly plug-and-play. Once connected to the FortiGate, they simply show up in FortiOS, and provide single pane of glass management.
The FEX-211E connects to the FortiGate using a standard Ethernet cable. They can be physically separated from the FortiGate, which allows for installation near a window or outdoors to optimize 3G/4G signal strength.
The Fortinet FortiExtender 211E is also suitable for use as a secondary failover connection to the wired WAN link. In this capacity it will improve business continuity. And as a primary WAN link, it provides ultimate flexibility and choice for your WAN connectivity. An Power over Ethernet capability increases placement flexibility even further.
FortiExtenders should be installed in the best possible spot to achieve maximum 3G/4G LTE signal strength. The FEX-211E is PoE-ready, and both indoor and outdoor models are available. This enables the device to be located for optimal signal strength. And that can be up to 100m away from the FortiGate or Network Switch.
Advantages
The FortiExtender 211E extends FortiGate reachability and breadth of deployment. It supports high levels of redundancy and failover when failure is not an option. The E Series is great as a primary WAN link for retail POS, remote ATMs, and remote kiosk type systems.
FortiExtender offers wireless connectivity for nearly any network. Whether mobile sites, vehicle fleets, field forces, or OT and IoT environments, a FortiExtender exists to help you gain resilient, high-performance connectivity. Anywhere.
And Corporate Armor is here to help you make the very best decision for your networking and security needs. We are truly Fortinet specialists, and we are happy to answer all of your questions. So email us, or call 877-449-0458.
View all Fortinet lines.
---
Read more