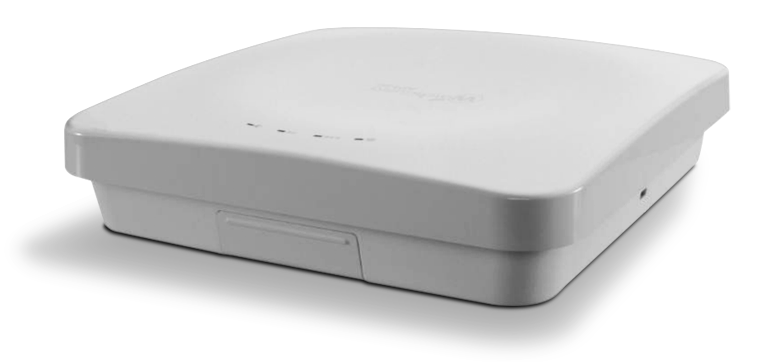 WatchGuard AP420 access point
The WatchGuard AP420 is an 802.11ac Wave 2 access point with a tight wireless security. It has a ton of management options. It can be managed as a standalone AP, remotely via WatchGuard's FireBox firewalls or in the cloud with the Wi-Fi Cloud service.
This is a Wave 2 dual-band AP that has not two, but three radios. Along with the 2.4GHz and 5GHz variety, the AP420 has a WIPS radio. It's designed to detect unauthorized APs and quarantine them.
The AP420 only 'plays' with APs that are physically wired into the same network. If someone tries to sneak their own AP onto the network, the AP420 will find it. Then it will alert you to its presence. And if intrusion prevention is on, it will disable it.
A little about licensing
You can choose the management method when you purchase the AP420. It'll have the Basic Wi-Fi license enabling Firebox management. WIPS is enabled with cloud management. A Secure Wi-Fi license gives you this plus the Go mobile web app and network monitoring tools. The Total Wi-Fi subscription adds location-based usage analysis. It also gives you the Engage app for gathering guest user demographics. Ask us about the additional licensing options!
View all WatchGuard lines.
Choose Your WatchGuard AP420
WatchGuard AP420 access point and Basic Wi-Fi License:
The AP420 is the fastest indoor access point from WatchGuard. It'll give you blazing fast wireless speeds with its 4×4 802.11ac Wave 2 chipset. Multi-user MIMO technology allows many smartphones, laptops and tablets to run at the same time. So no more waiting to connect to Wi-Fi. And, with a third 2×2 MIMO radio for dedicated WIPS, you don't have to sacrifice performance for security. The WatchGuard AP420 is great for tradeshow floors, auditoriums, meeting rooms, and shopping malls.
In summary
WatchGuard's AP420 has it all for SMB wireless networks. It's easy to set up, provides great features and its extremely secure. The cloud management portal very, very good. We'd love to tell you more about the WatchGuard AP420. So, why not give us a call at 877-449-0458, or reach out at [email protected]?
WatchGuard AP420 At a Glance
Max data rate (5 GHz / 2.4 GHz) 1.7 Gbps / 800 Mbps
4×4:4 MU-MIMO Wave 2
3rd WIPS radio for excellent security
Supports PoE+
Read more
---