---
Cloud Managed Teleworker Gateway

Fast, Reliable Connectivity for the Modern Teleworker
The Cisco Meraki Z-Series teleworker gateway is an enterprise class firewall, VPN gateway and router. Each model offers five gigabit ethernet ports and wireless for connectivity. Each model is designed to securely extend the power of Meraki cloud managed networking to employees, IT staff, and executives working from home.
Using Meraki's proven and highly scalable Auto VPN technology, administrators can deploy network services including VoIP and remote endpoints with automatic, zero-touch provisioning. Additionally the Z series provides secure wired and wireless access, and increases end-user productivity through Layer 7 traffic shaping.
All models feature a high-performance stateful firewall, support for VLANs, inter-VLAN routing, and isolation to segregate corporate data from recreational traffic. The Z3 offers the latest in wireless performance with 802.11ac Wave 2 technology with MU-MIMO support to provide reliable and high speed network access for most demanding business applications and latest devices.
Z-Series and Meraki Cloud Management: A Powerful Combo All Meraki devices are managed via the Meraki cloud, with an intuitive browser-based interface. Since the Z series is selfconfiguring and managed over the web, you can repidly deploy at remote locations without any assistance from end-users.
Meraki Cloud services monitor all devices 24×7 and deliver realtime alerts if any device encounters a problem. Remote diagnostics tools enable real-time troubleshooting through any web browser. New features and enhancements are delivered seamlessly over the web, so you never have to manually download software updates or worry about missing security patches.
Z3 Product Highlights
4 GbE ports for printers, phones and other wired devices
1 PoE-enabled port for VoIP phones and other powered devices
Dual-concurrent 802.11ac Wave 2 radios with up to 1.3 Gbps data rate
Auto VPN for intelligent site-to-site VPN connectivity
802.1x port authentication for wired devices
Layer 7 application traffic shaping and prioritization
Layer 3 firewall to separate corporate data from personal traffic
Up to 4 SSIDs with integrated enterprise security and personal / guest access
Optional desk stand
Self-configuring, plug-and-play deployment
Ideal for telecommuters using VoIP and remote applications
Sleek, low profile design
USB port for 3G/4G connectivity
---
Models
Z1
Z3
Recommended use cases
Teleworker
Teleworker with VoIP or PoE
Recommended clients
Up to 5 devices
Up to 5 devices
Maximum VPN Throughput
10 Mbps
50 Mbps
WAN Interfaces
1 x GbE RJ45
1 x USB (cellular failover)
1 x GbE RJ45
1 x USB (cellular failover)
LAN Interfaces
4 x GbE
4 x GbE
PoE
–
1 x PoE enabled port (802.3af, 15.5W)
WAN Interfaces
1 x GbE RJ45
1 x USB (cellular failover)
1 x GbE RJ45
1 x USB (cellular failover)
Dimensions
(w x d x h)
6.46" × 4.55" × 1.14"
(164mm × 116mm × 29mm)
6.83" x 4.41" x 1.04"
(173.4 mm x 112 mm x 26.3 mm)
Weight
0.9 lbs (0.408 kg)
0.85 lbs (0.386 kg)
Power Supply
18W (12 V / 1.5 A)
Power supply included
50W (54 V / 0.92 A)
Power supply included
Operating Temperature
32°F to 104°F
(0°C to 40°C)
32°F to 104°F
(0°C to 40°C)
Humidity
5% to 95% non-condesing
5% to 95% non-condensing
---
Accessories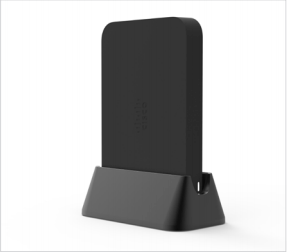 Z3 Desk stand (sold separately)
Z3 50W power adapter spare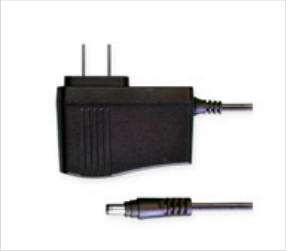 Z1 30W power adapter spare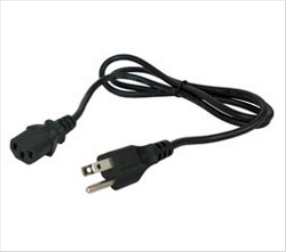 Z3 Power Cord (sold separately)
---
Features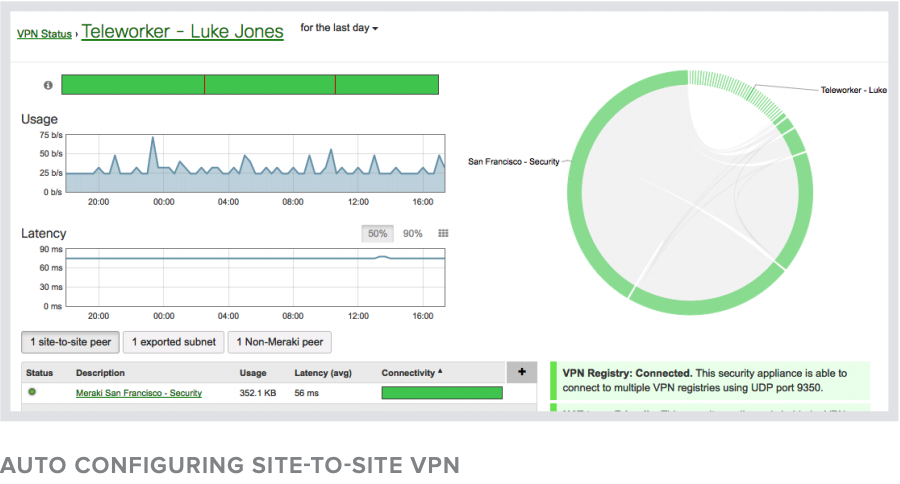 Auto VPN
Leveraging Meraki's cloud architecture, VPN tunnels to HQ or the data center can be enabled via a single click without any commandline configurations or multi-step key permission setups. Meraki's patent-pending Auto VPN technology automatically tunnels, hole punches, sets up route tables, and establishes the IPsec connections, completely eliminating the complexity seen in traditional site-to-site VPN solutions.
Application-aware traffic shaping
The Z-Series includes an integrated layer 7 packet inspection, classification, and control engine, enabling you to set QoS policies based on traffic type. Prioritize your mission critical applications like VoIP or remote desktop, while setting limits on recreational traffic, e.g., peerto-peer and video streaming.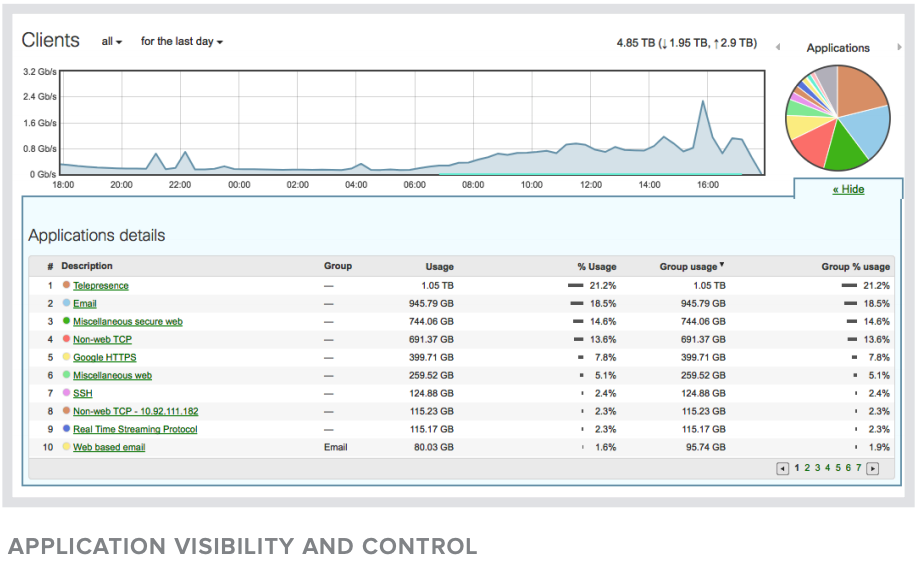 Simple, powerful security from end to end
With end-to-end VPN encryption, corporate data is always protected. Additionally the Meraki Z3 supports 802.1x wired port authentication, offering network and endpoint security no matter where the gateway may be deployed.
Self-configuring, self-optimizing, self-healing
When plugged in, the Z-Series automatically connects to the Meraki cloud, downloads its configuration, and joins your network. In case of WAN IP address changes, the Z-Series self heals by re-establishing the site-to-site VPN tunnels using the new IP address. Also, if a supported 3G/4G modem is connected and primary WAN uplink connectivity fails, the Z-Series will automatically failover to cellular.
Industry-leading cloud management
Meraki's award-winning cloud management architecture unifies WAN, LAN, and wireless management under a web based dashboard, and scales easily from small deployments to large, multi-site deployments with tens of thousands of devices. The Meraki dashboard provides intuitive yet powerful role-based administration, firmware updates, configuration changes, email alerts, and easy to audit change logs.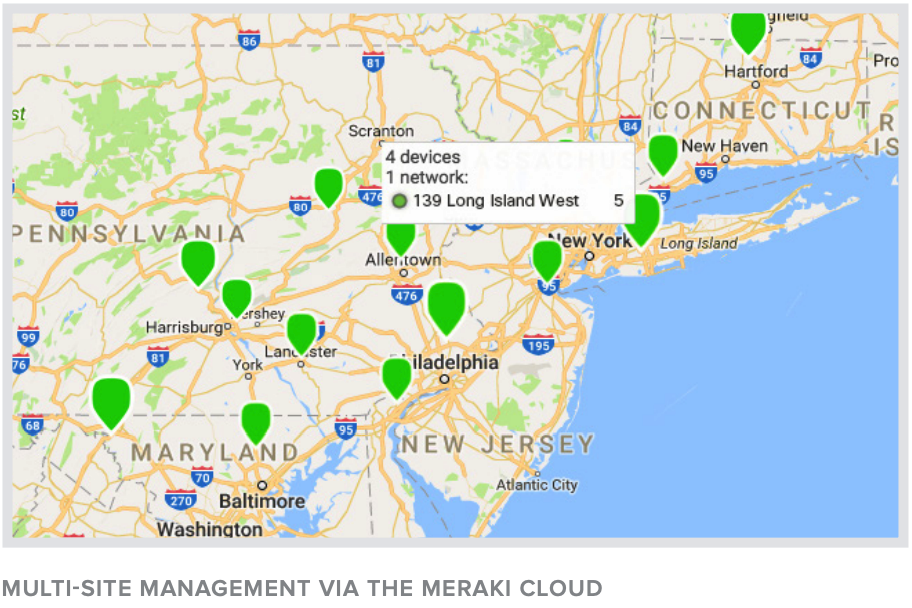 ---
Specifications
Performance
Firewall Throughput – Z1: 50 Mbps, Z3: 100 Mbps
VPN Throughput – Z1: 10 Mbps, Z3: 50 Mbps
Recommended for 5 clients or fewer
Interfaces
WAN interface: 1x GbE
LAN interfaces: 4x GbE
PoE: 1 x 802.3af enabled port (Z3 only)
1x USB 2.0 port for 3G / 4G connectivity
Network and Security Services
Stateful firewall, 1:1 NAT, DMZ
Auto (site-to-site IPsec) VPN
Client VPN (IPsec L2TP), limit 2 authorized users (with Meraki-hosted authentication only)
Automatic Layer 3 failover (including VPN connections)
Application level (Layer 7) traffic analysis and shaping
Multiple WAN IP, PPPoE, NAT
VLAN support and DHCP services
802.1x wired port authentication (Z3 only)
Static routing
User and device quarantine
Integrated Wireless
4 SSIDs
Z1: 2x 802.11a/b/g/n (2.4Ghz or 5 Ghz), 2×2 MIMO with 2 spatial streams
Z3: 2x 802.11a/b/g/n/ac (2.4Ghz or 5 Ghz), 2×2 MU-MIMO with 2 spatial streams
Max data rate – Z1: 600 Mbit/s, Z3: 1.3 Gbit/s
4x internal dipole antennas (gain: 3 dBi @ 2.4 GHz, 4 dBi @ 5 GHz)
WPA2-PSK authentication
Regulatory: FCC (US), IC (Canada), CE (Europe), C-Tick (Australia/New Zealand), RoHSe
Monitoring and Reporting
Throughput, connectivity monitoring and email alerts
Detailed historical per-port and per-client usage statistics
Application usage statistics
Org-level change logs for compliance and change management
VPN tunnel and latency monitoring
Network asset discovery and user identification
Periodic emails with key utilization metrics
Syslog integration
Remote Diagnostics
Live remote packet capture
Real-time diagnostic and troubleshooting tools
Aggregated event logs with instant search
Management
Managed via the web using the Meraki Cloud Controller
Single pane of glass management of wired and wireless networks
Zero-touch remote deployment (no staging needed)
Automatic firmware upgrades and security patches
Centralized policy management
Org-level two-factor authentication and single sign-on
Role based administration with change logging and alerts
Z1 Environmental Specifications
Power: 18W (12 V / 1.5 A), external power supply included
Operating temperature: 32°F to 104°F (0°C to 40°C)
Humidity: 5 to 95% non-condensing
Desktop or wall mount (all standard mounting hardware included)
Kensington lock hard point
Z3 Environmental Specifications
Power: 50W (54 V / 0.92 A), external power supply included
Operating temperature: 32°F to 104°F (0°C to 40°C)
Humidity: 5 to 95% non-condensing
Desktop or wall mount (all standard mounting hardware included)
Kensington lock hard point
Regulatory
FCC (US)
CB (IEC)
CISPR (Australia/New Zealand)
Warranty
Full lifetime hardware warranty with next-day advanced replacement included.
---
Included in the Box
MODEL
PACKAGE CONTENTS
Z1-HW
1 x Z1-HW
1 x AC Adapter
1 x Cat5 ethernet cable
1 x Mounting Kit

Z3-HW
1 x Z3-HW
1 x Power Adapter (power cord sold seperately)
1 x Cat5 ethernet cable
1 x Mounting Kit
---
Ordering Guide
To place an order for an Z-Series teleworker gateway, pair a specific hardware model with a single license (which includes cloud services, software upgrades and support). For example, to order a Z3 with a 3-year license, order an Z3-HW with LIC-Z3-ENT-3YR. Lifetime warranty with advanced replacement is included on all licensed hardware at no additional cost.
MODEL
LICENSE
DESCRIPTION
Z1-HW
LIC-Z1-ENT-1YR
LIC-Z1-ENT-3YR
LIC-Z1-ENT-5YR
LIC-Z1-ENT-7YR
LIC-Z1-ENT-10YR
Cisco Meraki Z1 Cloud Managed Teleworker Gateway, 1 year Enterprise License and Support
Cisco Meraki Z1 Cloud Managed Teleworker Gateway, 3 year Enterprise License and Support
Cisco Meraki Z1 Cloud Managed Teleworker Gateway, 5 year Enterprise License and Support
Cisco Meraki Z1 Cloud Managed Teleworker Gateway, 7 year Enterprise License and Support
Cisco Meraki Z1 Cloud Managed Teleworker Gateway, 10 year Enterprise License and Support
Z3-HW
LIC-Z3-ENT-1YR
LIC-Z3-ENT-3YR
LIC-Z3-ENT-5YR
LIC-Z3-ENT-7YR
LIC-Z3-ENT-10YR
Cisco Meraki Z3 Cloud Managed Teleworker Gateway, 1 year Enterprise License and Support
Cisco Meraki Z3 Cloud Managed Teleworker Gateway, 3 year Enterprise License and Support
Cisco Meraki Z3 Cloud Managed Teleworker Gateway, 5 year Enterprise License and Support
Cisco Meraki Z3 Cloud Managed Teleworker Gateway, 7 year Enterprise License and Support
Cisco Meraki Z3 Cloud Managed Teleworker Gateway, 10 year Enterprise License and Support
MA-PWR-30W-US
MA-PWR-30W-EU
MA-PWR-30W-UK
MA-PWR-30W-AU
–
Cisco Meraki Spare AC Adapter for Z1 (US Plug)
Cisco Meraki Spare AC Adapter for Z1 (EU Plug)
Cisco Meraki Spare AC Adapter for Z1 (UK Plug)
Cisco Meraki Spare AC Adapter for Z1 (AU Plug)
MA-PWR-50WAC
–
Cisco Meraki Spare Power Adapter for Z3 (Universal)
MA-PWR-CORD-US
MA-PWR-CORD-EU
MA-PWR-CORD-UK
MA-PWR-CORD-AU
MA-PWR-CORD-JP
–
Cisco Meraki Power Cord for Z3 (US Plug)
Cisco Meraki Power Cord for Z3 (EU Plug)
Cisco Meraki Power Cord for Z3 (UK Plug)
Cisco Meraki Power Cord for Z3 (AU Plug)
Cisco Meraki Power Cord for Z3 (JP Plug)
MA-STND-1
–
Z3 Teleworker Gateway desk stand, available in October 2017