APC Symmetra – High-Availability, Single Phase UPS
The first UPS with redundancy and scalability within a single chassis.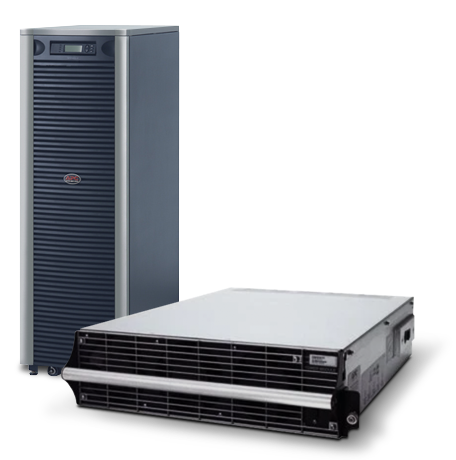 From battery backups that safeguard against outages, to full-scale data center infrastructure, from surge protection and power conditioning to rack mounts and a host of other accessories: APC can help your home and business become more efficient, reliable, and connected.
The APC Symmetra series are a hugely popular and successful line of power backup systemsSort of an enterprise-class series compared to the original Smart-UPS series. They are trusted by millions of IT professionals throughout the world to protect equipment and critical data from costly interruptions. They supply reliable, network-grade power reliably and efficiently.
Features of APC Symmetra
Symmetra is engineered to deliver the highest level of business continuity possible. Its' modular, redundant architecture can scale power and run time as demand increases or when higher levels of availability a must. Integrated network manageability provides real time status updates of UPS health and environmental conditions. Hot-swappable, user replaceable power, battery, and intelligence modules enables low MTTR and ease of service. Symmetra's modular design provides redundant power in a single chassis for business-critical applications in server rooms and network closets.
Like the Smart-UPS line, Symmetra is extensive. For the sake of simplicity, the Symmetra line is listed here according to power rating (in volt-amps). You'll notice the power ratings are generally higher than for other Smart-UPS families. Simply click to learn more about some of the APC Symmetra models rated for: 2000 VA, 4000 VA, 6000 VA, 8000 VA, 12000 VA, and 16000 VA.
The (many) upsides of Symmetra
Symmetra's network grade power conditioning protects from damaging surges and disruptive noise. And the double conversion architecture provides tight voltage regulation, frequency regulation ,and zero transfer time to battery during power events.
And Intelligent battery management, pioneered by APC, maximizes battery performance and life through intelligent, precision temperature compensated charging. Automatic self tests insure battery reliability and warn customers in advance of battery replacement. Convenient, easy to connect, hot-swappable battery modules provide battery replacement without powering down.
Plus, Symmetra LX's redundant N+1 architecture enables the unit to withstand a failures of an intelligence module, battery or power module. Modules are easily replaceable in the field. Customers can add additional power modules or batteries after initial equipment purchase to accommodate loads of up to 16 kVA.
Symmetra is Safety agency tested and approved. That means that you can deploy Symmetra with confidence that they meet or exceed the industry's most rigorous standards.
Be sure to give Corporate Armor a call at 877-449-0458, or reach out at [email protected] so we can answer all your APC Symmetra questions!
APC Symmetra
Low operating and maintenance costs
Modular, Scalable, Redundant, Future-Proof Architecture
Maximizes battery performance and reliability with intelligent, precision charging
User-replaceable batteries
---
Check out our original content!