APC Smart-UPS Enterprise Uninterruptible Power Supplies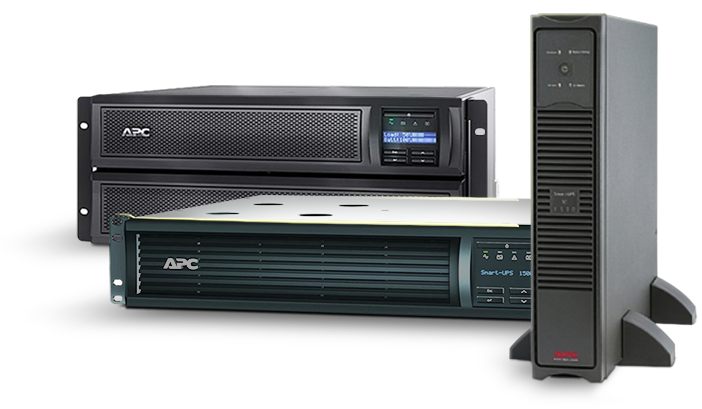 From battery backups that safeguard against outages, to full-scale data center infrastructure, from surge protection and power conditioning to rack mounts and a host of other accessories: APC can help your home and business become more efficient, reliable, and connected.
The APC Smart-UPS series are a hugely popular and successful line of power backup systems that go from entry-level up to full-on enterprise grade products. They are trusted by millions of IT professionals throughout the world to protect equipment and critical data from costly interruptions. They supply reliable, network-grade power reliably and efficiently.
Smart-UPS – Something for everybody
The Smart-UPS line is extensive. For the sake of simplicity, the original Smart-UPS line is listed here according to power rating (in volt-amps). Simply click to learn more about some of the APC Smart-UPS models rated for: 420 VA, 500 VA, 1000 VA, 1440 VA, 1500 VA, 1920 VA, 2200 VA, 2880 VA, 3000 VA, and 5000 VA.
Smart-UPS Ultra
But there's a lot more to Smart-UPS. For example, Smart-UPS Ultra provides ultra-high density, On-Line power protection with Lithium-ion batteries for servers, voice / data networks, retail, medical labs and light industrial applications. It's capable of supporting loads from up to 3kW with up to 2.4X the power density, and comes with a standard internal battery or available external battery packs for scalable runtime options. Smart-UPS Ultra provides remote monitoring and management options via the EcoStruxture Ready Web Portal or Network Management for EcoStruxure IT Software & Services.
Smart-UPS Online
Smart-UPS On-Line provides high density, true double-conversion on-line power protection for servers, voice / data networks, medical labs, and light industrial applications. Capable of supporting loads from 1 to 20kVA in a rack/tower convertible form, the Smart-UPS On-Line is available from 2U to 12U. Recent family extensions at 15 and 20kVA enable support of power hungry blade servers or heavily loaded equipment racks.
Smart-UPS Battery Systems
APC Smart-UPS external battery packs provide healthy runtime improvements for critical business applications. Connect battery packs to your extended-run Smart-UPS to ensure business continuity during prolonged power outages.
Smart-UPS accessories
Smart-UPS accessories include various backplate PDU options, external standard and switched PDU options, matching battery cabinets for extending run time(Smart-UPS XL only), management devices, service products, and mounting options. These accessories can customize your solution to increasing availability, adaptability, serviceability, manageability, and performance. Call Corporate Armor at 877-449-0458 or email us for more info.
Features
One feature that stands out on the APC Smart-UPS series is APC's SmartConnect technology. This allows your UPS to be cloud-enabled. That means you can login via a secure portal via any internet-connected device. Then you can view the status of your UPS, receive notifications, get firmware updates and more. So for those who don't have time to monitor the UPS, this can be quite valuable. In addition, the UPS also has both line interactive topology (via an automatic voltage regulator), and uses a clean pure sine wave form for output. This makes it compatible with most any computer or audio gear.
Smart-UPS provides availability and manageability to your network so you can focus on business growth instead of business downtime. Smart-UPS is EcoStruxure enabled.
Be sure to give Corporate Armor a call at 877-449-0458, or reach out at [email protected] so we can answer all your APC Smart-UPS questions!
APC Smart-UPS
Adjustable voltage sensitivity
Automatic restart of loads after UPS shutdown
Adjustable voltage sensitivity
User-replaceable batteries
---
Check out our original content!