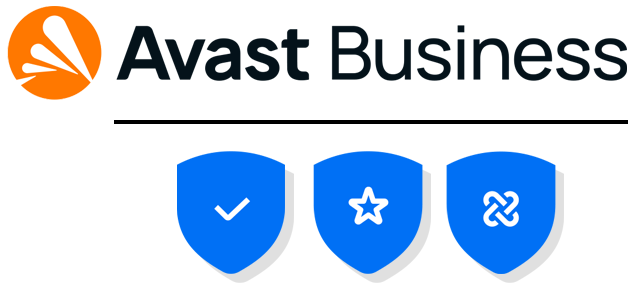 Simple, powerful, affordable online security without extensive maintenance
Avast is one of the largest security companies in the world using next-gen technologies to fight cyber attacks in real time. They've been around a long time, and are very well-known and respected. This article will discuss their new Avast Small Business Solutions. Avast Small Business Solutions include three levels of security. They are Avast Essential Business Security, Premium Business Security, and Ultimate Business Security.
Avast has managed to create a scalable cloud-based security infrastructure that sees everything that happens on the internet. We have a view into everything online, good and bad.This gives Avast the unique advantage of being first to inspect and analyze potential threats. They prevent over 1.5 billion attacks every month, in fact. And when new malware is discovered, they can quickly deploy new security features to protect our users. This is the strength behind Avast Small Business Solutions.
Avast Essential Business Security
Avast Essential Business Security features Anti-malware and antivirus protection with a built-in firewall to keep devices and data safe against cyberattacks. It protects your business against viruses, ransomware, spyware, zero-second threats, Wi-Fi network vulnerabilities, and more.
Wherever your employees are and whatever they're doing online, it keeps devices safe. Avast does a good job blocking dangerous websites, and ensures all files and emails are malware-free. It prevents hackers from accessing your device, and more.
What does Premium have that Essential doesn't?
For one, it has Privacy Protection. That's Avast's built-in VPN that encrypts your data and secures your internet connection when using public Wi-Fi networks.
It also features Webcam Protection that prevents applications and malware from accessing your PC's webcam without your consent. It also has Password Protection that secures your browser-stored passwords from theft. And, it allows you to manage multiple networks easily by viewing threats, updates and reports for your customers in one place. Plus, helps you avoid rising costs and upkeep for clients. This helps you reduce onsite client visits, saving effort, money and time.
What does Ultimate have that Premium and Essential don't?
On top of all this, Ultimate has a cool Patch Management feature that automatically fixes vulnerabilities on your software and third-party applications that are susceptible to cyberattacks.
Corporate Armor has partnered with Avast for years. We can readily recommend it for your clients. Why not email us or call 877-449-0458 and let us answer your questions.
Avast Small Business Solutions highlights
Avast prevents over 48 million cyberattacks daily
Each month, Avast protects users from 300 million visits to malicious sites
Avast protects over 400 million users
Avast blocks an average of over 4 million ransomware attacks per month
On average, Avast blocks over 33 million phishing attacks each month


---
Learn more with our original content!