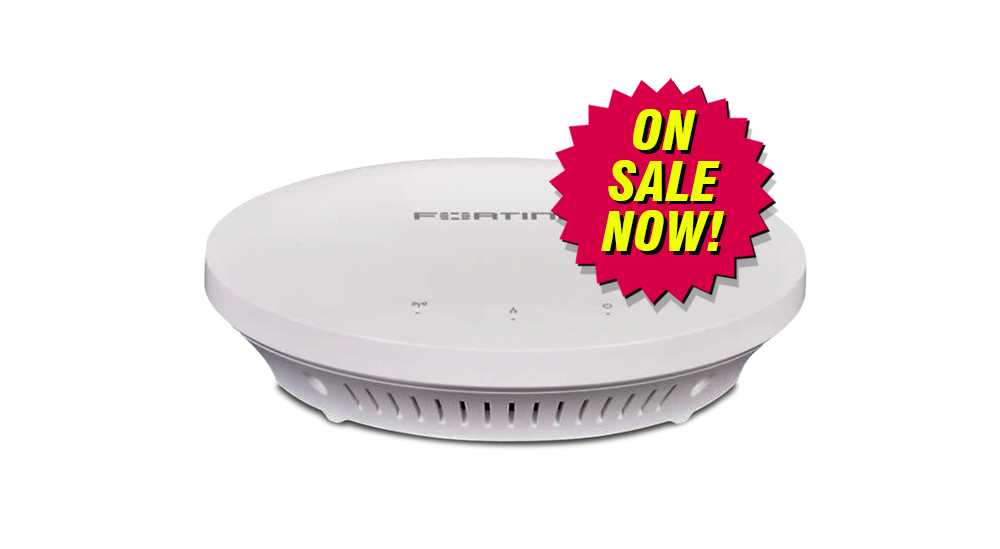 FortiAP 221E access point
The biggest, most expensive, fastest wireless access point isn't always necessary. Sometimes, a small, reliable, reasonably priced access point is all you need. That's the great thing about Fortinet's FortiAP 221E. Starting at just $327, t's priced right, it's easy to install, and easy to manage.
Great For Small Businesses
The FortiAP 221E is designed to be installed indoors, in a medium density environment. It's great for an office environment, smaller retail store, or in a classroom. You can manage the FAP 221E centrally by the WLAN controller of your FortiGate. This makes it ideal if you are already using Fortinet security devices. And, you can manage the FortiAP 221E in the same dashboard as the rest of your Fortinet devices. Even if you aren't using Fortinet security appliances, it can still set up quickly and easily through the FortiAP cloud provisioning and management portal.
What's in the Box?
The FortiAP 221E comes with the access point, quick start guides, and mounting hardware. Fortinet supplies the hardware for you to mount the AP to a wall, ceiling, or t-mount rail. It's important to note that the FortiAP 221E does not come with a power supply. So, you will have to hook this up to a switch with PoE, a PoE injector, or a separate power supply. Corporate Armor sells all these options separately.
FortiAP 221E access point
802.11ac indoor access point. 2×2 MU-MIMO dual-radio (2.4 GHz and 5 GHz)device, 4 internal antennas.
FAP 221E Specifications
The 221E has 2 radios (2.4 GHz and 5 GHz). 4 internal antennas. 2×2 multi-user MiMo. It has a throughput of 867 Mbps. And uses 802.11 ac Wave 2. The FortiAP 221E allows you to set up a separate guest network. You can also customize the security of both the guest and private network.
Since we're premier Fortinet specialists, Corporate Armor is your best bet if you want to find out more about the FortiAP 221E. Our advice will be driven by your unique needs, nothing more. Just call 877-449-0458, or email us at [email protected].
Highlights
Dual radio (2.4 GHz and 5 GHZ)
4 internal antennas
2×2 multi-user MIMO
867 Mbps Throughput
View all Fortinet lines.
---
Keep reading!