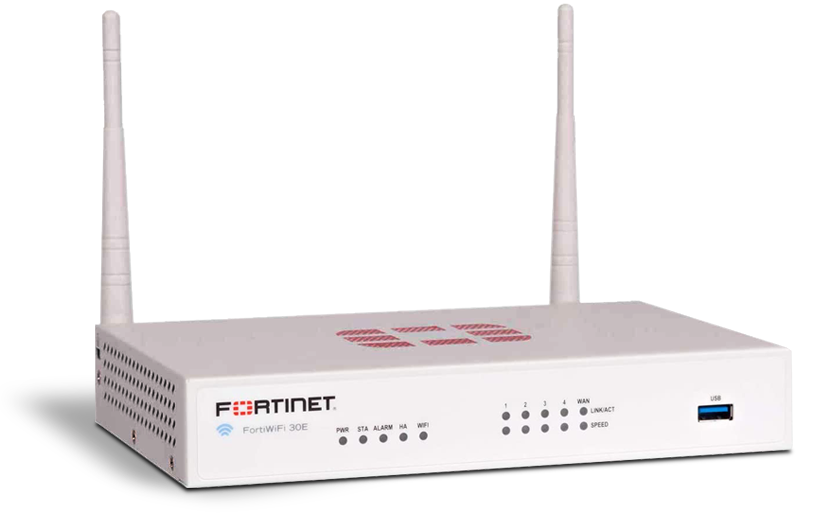 FortiWiFi 30E Next-Gen firewall
Meet the remarkably effective and affordable Fortinet FortiWiFi 30E. This firewall provides a quick, easy answer to the question of safe, uninterrupted remote access. Of course, this is a question that everyone's asking nowadays. The FortiWiFi 30E punches well above it's pricepoint with UTM Throughput of 150 Mbps.
Additionally, it boasts IPS Throughput of 300 Mbps and Firewall Throughput of 950 Gbps. And, the FG 30E has NGFW Throughput of 200 Mbps. Moreover, the FG 30E is capable of handling up to 15 users. As a result, it is ideal for small businesses or branch offices on a budget.
What are FortiCare and FortiGuard support contracts, and how do I choose one of these?
Good question. When you purchase a FortiWiFi 30E, you have several options to go along with the firewall itself. These support contracts ensure that your firewall performs at its highest level, for as long as possible. The options on the right combine FortiCare and FortiGuard. However, without these support options in place, a firewall would be an expensive doorstop.
What are they, then?
FortiCare gives you global tech support on a per-product basis. You'll receive a timely response to any technical issues as well as complete visibility on ticket resolution progress. It includes firmware upgrades, access to the support portal and associated technical resources. In addition, there's reporting on technical incidents (via the web, chat, and telephone), and a hardware return option.
Basically, FortiGuard is the constantly self-updating security part of your firewall—it's what makes it a firewall. Each option includes a range of security services designed to tackle the most advanced Internet threats at any given time. This includes AntiVirus, Advanced Malware Protection, Content Filtering, Sandboxing, AntiSpam, Email Security, Botnet Protection, and more.
Have questions? Call 877-449-0458, or email us at [email protected].
View all Fortinet lines.
The FortiWiFi 30E has been discontinued. Click here to upgrade to the FortiWiFi-40F, or call 877-449-045
FortiWiFi 30E At a Glance
| | |
| --- | --- |
| Firewall Throughput | 950 Mbps |
| IPsec VPN Throughput | 75 Mbps |
| SSL-VPN Throughput | 35 Mbps |
| IPS Throughput | 300 Mbps |
| SSL Inspection Throughput | 200 Mbps |
| NGFW Throughput | 150 Mbps |
| Max # of FortiAPs (Total/Tunnel) | 2/2 |
| | |
How do I configure a FortiGate firewall step by step? Find out here! Of course, you can always reach out to us for help, too!