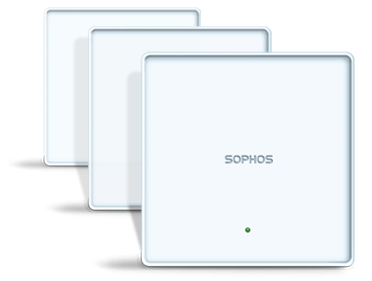 Sophos APX 740 Wireless Access Point
The Sophos APX 740 is the flagship of the APX line of access points. Built for high-density, high-capacity environments, it is a 4×4 MIMO, dual radio device. Please note that all Sophos access points require a wireless protection subscription. The APX Series enables basic Synchronized Security with Sophos Endpoint, Sophos Mobile and Sophos Server when managed through Sophos Central. Sophos Central Wireless Standard (for APX) is available in 1, 2, and 3-year options.
On the other hand, Sophos XGS Firewall offers advanced Synchronized Security with Sophos Endpoint and Sophos Server independent of the use of the Wireless Protection features.
Why does Wave 2 matter?
Good question. Even now, in 2021, Wave 1 isn't bad. It suits most people's purposes admirably, just like Wi-Fi 5 does (as opposed to the newer Wi-Fi 6). And unless you're using your Wi-Fi network for streaming and the processing of large files, Wave 1 is perfectly fine. However, as more devices begin joining wireless networks, the need for more power will increase.
Sophos APX 740 with Central Wireless Standard/1 user – REQUEST A QUOTE
Specs and capabilities of the APX 740
The new APX series is a huge performance and design update over the AP 55 and AP 100 that this family replaces.
And the APX 740 is faster than it's little brother, the APX 530. The APX 740 pushes up to 1.7 Gbps at 5 GHz, and 600 Mbps at 2.4 GHz. And, as mentioned before, it has four antennas rather than only three. The APX 740 also has a PoE+ port.
It is well suited for medium-to-high density environments, such as you would find in a typical mid-sized office. If you would like to know more about the APX 740 or any other Sophos product, please email us or call Corporate Armor at 877-449-0458.
Read our review on the APX 740

here!
Have questions? Call 877-449-0458, or email us at

[email protected]

.
View all Sophos lines.