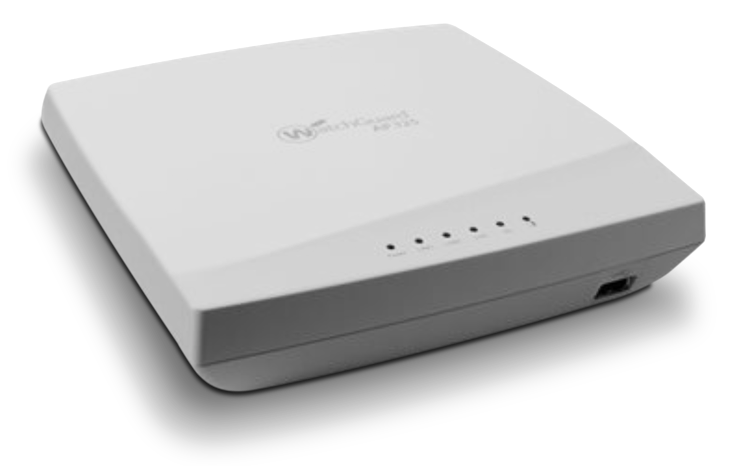 WatchGuard AP325 access point
The WatchGuard AP325 is an 802.11ac access point perfect for the cost-conscious. It's ideal for medium-density environments like K-12 schools and small and midsize businesses. It will also suit offices, small retail and meeting rooms, restaurants, and healthcare offices.
This access point targets SMBs that want affordable Wave 2 performance, tight security and remote management. It can be used as a standalone AP and is managed via WatchGuard's Firebox security appliances or its Wi-Fi Cloud service.
A really cool feature is WatchGuard's WIPS (wireless intrusion prevention system) radio. The AP325 has six internal aerials. Two of these detect unauthorized wireless APs physically connected to your network and disable them. That'a pretty cool!
The first Gigabit port on the WatchGuard AP325 supports PoE+. It is used for the main LAN connection and management access. The the second can be used to extend the wired network or for link aggregation. You'll want to avoid using a low-power 802.3af PoE source.
View all WatchGuard lines.
Choose Your WatchGuard AP325
WatchGuard AP325 access point and Basic Wi-Fi License:
A little about licensing
You can choose the management method when you purchase the AP325. It'll have the Basic Wi-Fi license enabling Firebox management. WIPS is enabled with cloud management. A Secure Wi-Fi license gives you this plus the Go mobile web app and network monitoring tools. The Total Wi-Fi subscription adds location-based usage analysis. It also gives you the Engage app for gathering guest user demographics. Ask us about the additional licensing options!
In summary
WatchGuard's AP325 has it all for SMB wireless networks. It's easy to set up, provides great features and its extremely secure. The cloud management portal very, very good. We'd love to tell you more about the WatchGuard AP325. So, why not give us a call at 877-449-0458, or reach out at [email protected]?
WatchGuard AP325 At a Glance
Max data rate (5 GHz / 2.4 GHz) 867Mbps / 300 Mbps
2×2:2 MU-MIMO Wave 2
3rd WIPS radio for excellent security
Supports PoE+
Read more
---