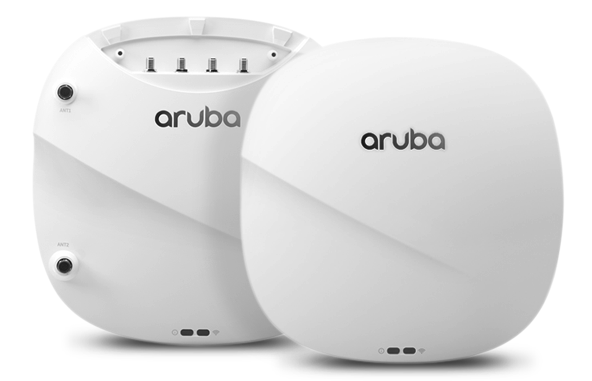 Aruba AP345 access point
The Aruba 340 Series consists of the Aruba AP344 and Aruba AP345 802.11ac access points. The difference is the AP345 has integrated antennas, while the AP344 has external ones. Check out the datasheet for more information on that. Most of what is said here will apply to both models. The 340 series are high-end 802.11ac access points. They provide extremely fast gigabit speeds and superb, easy user experience for mobile devices. The Aruba AP345 access point comes with an integrated, 802.3bz compliant, HPE SmartRate multi-gig Ethernet port. This eliminates wired bottlenecks.
These APs offer unmatched wireless performance and capacity. The unique and flexible dual 5GHz architecture of the 340 series offers a way to double 5 GHz capacity where needed, without restrictions.
As with other Aruba APs, you can run the Aruba AP345 either controller-based, or controllerless (Instant) mode.
When deployed with an Aruba Mobility Controller, the Aruba AP345 offers centralized configuration, data encryption, and policy enforcement. It will also give you network services and distributed and centralized traffic forwarding.
In controllerless (Instant) mode, the controller function is virtualized in a cluster of APs. As the network grows or requirements change, Instant deployments can easily migrate to controller-based mode.
Specs and features
The Aruba AP345 achieves maximum data rates of 2.166 Gbps in the 5GHz band and 800 Mbps in the 2.4GHz band. This means a peak data rate of 3.0 Gbps in dual-band and 4.3 Gbps in dual-5GHz. The AP345 also includes integrated Bluetooth Low Energy radio, for advanced location and indoor wayfinding.
The primary difference between the Aruba AP345 and the AP335 is that the AP345 supports dual 5GHz operation. The AP335 has one 2.4GHz radio and one 5GHz radio. The AP345 does, however, require the latest software (AOS8.3) in order to operate.
The 340 series is ideal for lecture halls, auditoriums, public venues, and high-density office environments. The 340 Series support up to 160 MHz channel bandwidth (VHT160), and 4 spatial streams (4SS) for both SU- and MU-MIMO communications.
Since we have years of Aruba experience, Corporate Armor is your best bet if you want to find out more about the Aruba AP345 access point. Our advice will be driven by your unique needs, nothing more. Just call 877-449-0458, or email us at [email protected].
Aruba AP345 access point highlights
Choice of operating modes; Controller mode, and Aruba Instant mode
2.166 Gbps in the 5GHz band and 800 Mbps in the 2.4GHz band
Dual Radio 4×4 802.11ac access point with Wave 2 Multi-User MIMO
Resolve sticky client issues with MU-MIMO-aware ClientMatch
View all Aruba lines.