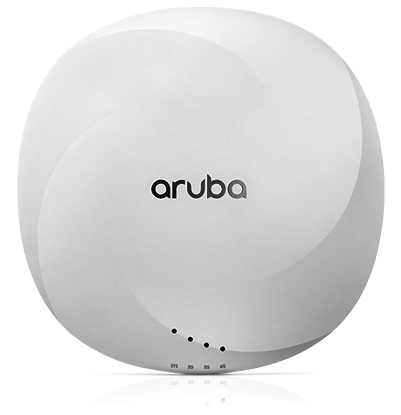 Aruba AP630 Wi-Fi 6 access point
The Aruba AP630 is part of the Aruba 600 series of Wi-Fi 6 access points. It offers two operating modes to meet your requirements.
Controller-managed mode, for when managing by Aruba Mobility Controllers. The Aruba AP630 offers centralized configuration, data encryption, policy enforcement, and network services. Plus, you get distributed and centralized traffic forwarding.
Aruba Instant mode. In Aruba Instant mode, a single AP automatically distributes the network configuration to other access points in the WLAN. Simply power-up one Instant AP and configure it over the air. Then, plug in the other APs. The entire process takes about five minutes. And there's no need to worry if WLAN requirements change. A built-in migration path allows AP630s to become part of a WLAN that is managed by a Mobility Controller.
The Aruba AP630 is an affordable, yet powerful 802.11ax access point. It is perfect for for any organization experiencing growing numbers of mobile, IoT and mobility requirements.
Some numbers on the Aruba AP630 Wi-Fi 6 access point
The Aruba AP630 Wi-Fi 6 access point is designed to take advantage of the 6 GHz band. This translates into far greater speeds, wider channels for multi-gigabit traffic, and less interference. It delivers 3.9 Gbps maximum aggregate data rates Tri-radio, 2×2:2 MIMO in all three bands (3.9 Gbps aggregate peak).
Why to like the Aruba AP630
Aruba 630 APs utilizes the 6 GHz band via three dedicated radios. By using the 6 GHz band, capacity is more than doubled.
So you can meet growing demand due to bandwidth-hungry video, increasing numbers of client and IoT devices and growth in cloud. Unique to Aruba, the 630 includes ultra tri-band filtering and dual 2.5 Gbps ethernet ports to eliminate coverage gaps, provide greater resiliency, and deliver fast, secure connectivity.
Summary
Aruba is excellent for enterprise companies. It is very well suited for organizations that require a large number of wireless access points and need simple intuitive management over them. And when it comes to Wi-Fi management, Aruba gives you the flexibility to choose. You can use an Instant access point or a controller to manage an entire cluster of access points. On the other hand, you can manage them with a cloud-based or an on-site network management platform.
Since we have years of Aruba experience, Corporate Armor is your best bet if you want to find out more about the Aruba AP630 Wi-Fi 6 access point. Have questions? Call 877-449-0458, or email us at [email protected].
Highlights
Unlocks the 6 GHz band to more than double the available capacity
Unique Ultra Tri-Band (UTB) filtering enables 5 GHz and 6 GHz to operate without restrictions or interference
OFDMA for enhanced multi-user efficiency
Aggregate rate of 3.9 Gbps
Up to seven 160 MHz channels in 6 GHz support low-latency, bandwidth-hungry applications like high-definition video and augmented reality/virtual
View all Aruba lines.
Learn more!