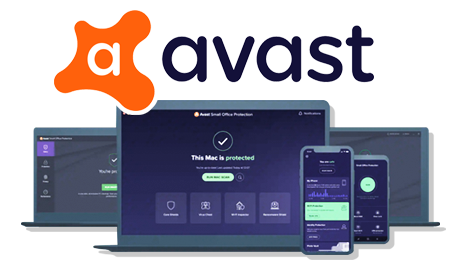 Avast Small Office Protection (1-10 users)
Multi-layered, real-time security
Avast has managed to create a scalable cloud-based security infrastructure that sees everything that happens on the internet. They have a view into everything online, good and bad. It gives Avast the unique advantage of being first to inspect and analyze potential threats. They prevent over 1.5 billion attacks every month, in fact. And when new malware is discovered, they can quickly deploy new security features to protect our users. This is the strength behind Avast Small Office Protection.
Avast Small Office Protection is a nifty, nimble little security suite sized for the home office-to-small business. Think up to 10 users. The next step up, Avast Endpoint Protection, will cover from 11-100 users.
The great thing about these small Avast solutions is that they are tailor-made to be easy to use by people who don't have IT expertise on hand. Customers have continuously said it's a very easy to use tool. It's secure, reliable and above all it does not slow down your PC while running, even while scanning. It lets you know literally every bit of potential threat it has found, Avast is easy to use and gives you insight on what websites are trying to gain access to your computer, without over-reporting on false or spurious data.
Features of Avast Small Office
Avast Small Office Protection works effortlessly with your business' existing hardware and devices. It blocks viruses, spyware, and other threats in real-time, keeps hackers off your computer with advanced its' firewall feature, and prevents strangers from watching you through your own webcam.
You also get a ransomware shield, a phishing net to protect your business from the lates, an email shield, Next-Gen Antivirus, Wi-Fi vulnerability inspector, and more.
Easy to use
Using the software is easy, especially when it comes to deep scanning and understanding scan reports. The admin interface is simple to navigate, and it makes managing several machines pretty simple. Easily set rules for even simpler management. It's quite unobtrusive when running. It's almost difficult to tell if it's even running. But when the install is done everything is there and ready to roll. And client computers can be included in the hub with no problem. Install, configure, then forget it's there. It will protect your installed computers against most everything.
Corporate Armor has partnered with Avast for years, and we would love to recommend Avast Small Office Protection for your small business or organization. Why not email us or call 877-449-0458 and let us give you a very quick, VERY competitive quote?
Avast Small Office Protection
Installation is a total snap
Extremely light on your system
Highly skilled, helpful technical engineers
Easily adjustable security settings


---
Learn more with our original content!