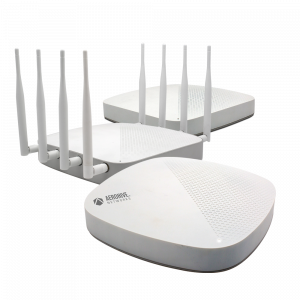 Buy FOUR Aerohive 802.11ax Access Points for the price of THREE
AVAILABLE FOR A LIMITED TIME!
By late 2019, you will see the takeover of 802.11ax devices. By 2020, 50% of shipping clients will be 802.11ax. By 2022, 1 billion 802.11ax chipsets will ship annually.
If you have 802.11n/ac access points, upgrade now and take full advantage of major technology improvements, with Aerohive's fully backward compatible solution to:
Attain High Efficiency With Multi-User WiFi Communication
Get Better Battery Life for Your Mobile Devices
Address and Improve Client High Density Challenges
Increase Processing Power on AP Hardware
Important notes:
This promo is available for new devices only; renewals are not eligible.
Promotion is only valid for Purchase Orders received by close of business September 30, 2019.
This promo cannot be combined with any other offers, promotions or special pricing.
Sales are final, no returns.
Have questions? Call 877-449-0458, or email us at [email protected].
View all Aerohive Networks lines.
Aerohive AP630
---
Aerohive AP630 Indoor Access Point:
---
Aerohive AP650
---
Aerohive AP650 Indoor Access Point:
---
Aerohive AP650X
---
Aerohive AP650X Indoor Access Point: