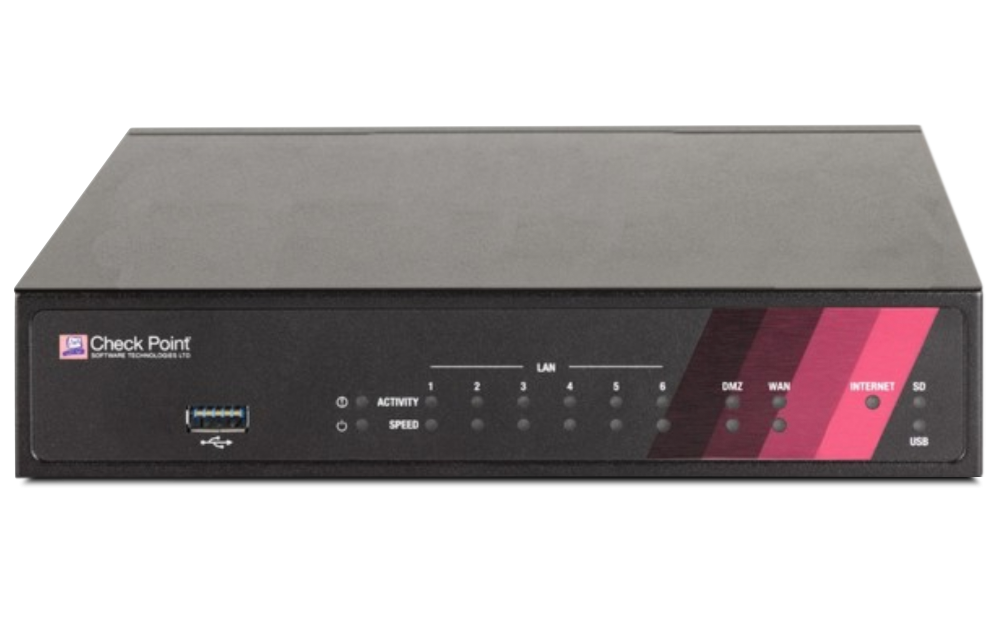 Check Point 1450
THE BRANCH OFFICE CHALLENGE

In the age of global business and a more distributed workforce, remote and branch staff demand access to corporate resources in order to work effectively and efficiently. However, even a small data breach can expose companies to crippling lawsuits, penalties and loss of reputation. Branch offices need an inexpensive, yet effective solution to provide secure access to critical resources from anywhere, while minimizing the risk of a data breach.
OUR SOLUTION

The Check Point 1400 Appliance family is a simple, affordable and easy to deploy allin-one solution for delivering industry leading security to protect the weakest link in your enterprise network—the remote branch offices. Protect against cyber threats with Check Point Threat Prevention all in a quiet, compact desktop form factor.
Product Benefits
All-in-one protection against viruses, spam, bots, dangerous applications, malicious websites and zero-day threats with SandBlast
Continuous security updates from ThreatCloudTM
Fast set-up, instant protection
Secure remote access for your mobile workers
Multiple management options to address any organization's needs

Simplified web-based local management
Centralized with our enterprise Security Management or Multi-Domain Management products
Product Features
Highest ranked Next Generation Firewall
Profile-based management designed for large-scale deployments
Multiple internet access options including DSL and support of external 3G/4G/LTE modems
Integrated 802.11ac wireless security with guest access
Power over Ethernet (PoE and PoE+) option
Have questions? Call 877-449-0458, or email us at [email protected].
View all Check Point lines.
Configure Your Check Point 1450
Check Point 1450, Wired with Threat Prevention Security Suite & Standard Support:
---
---
Check Point 1450 Accessories