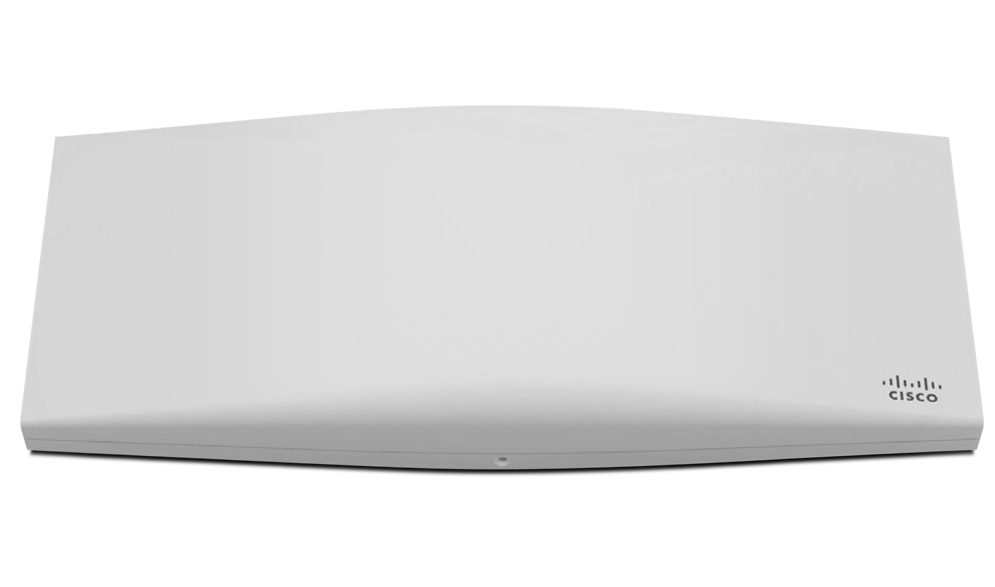 802.11ax 4×4:4 MU-MIMO Wi-Fi 6 Access Point.
3.5* Gbps dual-radio aggregate frame rate
Meraki MR46 Wi Fi 6 access point
The Cisco Meraki MR46 is a new cloud-managed 802.11ax access point. Carrying 4×4:4 radio setup, it truly raises the bar for performance and efficiency. As a result, it's ideal for next-generation uses in offices, schools, hospitals, and hotels. It offers high throughput, enterprise security, and simple management.
MR46 Specs
This access point provides up to 3.5 Gbps* aggregate frame rate. And, it carries 2.4 GHz and 5 GHz radios. A dedicated third radio provides real-time WIDS / WIPS and automated RF optimization. There's also a fourth radio that delivers Bluetooth scanning and beaconing.
With MR-46 you get cloud management, high performance hardware, multiple radios, and advanced software. Therefore, the MR-46 makes an outstanding platform for the most demanding of uses. That includes high-density and bandwidth-hungry deployments like voice and high-definition video.
The MR Enterprise license includes centralized cloud-based management. Therefore, you will not need an on-site hardware controller. In addition, you have network-wide visibility and control. This is a massively scalable bundle, up to thousands of APs.
The MR Advanced license includes a device (Enterprise) license for the MR access point. Plus, the Umbrella DNS security and content filtering integration is included.
Do you know why Meraki is a great fit for the healthcare sector?
Working in IT networking and security in the healthcare sector is a pretty unique experience. Why? because keeping technology running is a critical part of patient care and saving lives. Can you say 'pressure'? Especially as threats like ransomwares are becoming so much more prevalent and sophisticated. Click here to learn how Meraki is ideal for meeting the challenges unique in this field. Have questions? Call 877-449-0458, or email us at [email protected].
Meraki highlights
True and complete cloud-management
A breeze to deploy and operate, no expertise needed
Meraki templates make rules a snap to create and implement
Seamless connectivity backup
Meraki MR46 Wi Fi 6 access point
It will surprise nobody that the MR46 shares Meraki's simple set-up, smooth and easy roaming, lowered battery usage and huge number of total users!
| | |
| --- | --- |
| 802.11ax Access Point | |
| Up to 3.5 Gbps Aggregate Frame Rate | |
| 2.4 GHz & 5 GHz concurrent radios | |
| 4×4 radios = Large # of Connections | |
| Stateful Layer 3-7 Firewall | |
| Great for High-Density Deployments | |
Configure Your Meraki MR-46
access point

MR46 with Enterprise License:
MR46 with Advanced License:
---
Renew your Cisco Meraki Access Point License
---
View all Meraki lines.
Meraki MR46 Wi Fi 6 access point Accessories
---
Keep reading!