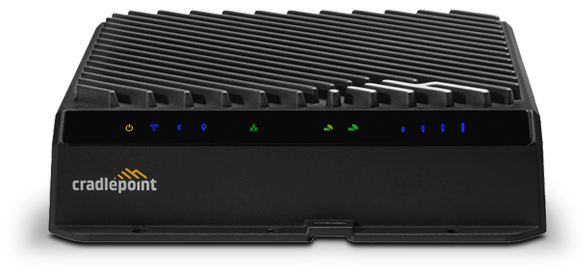 Cradlepoint R1900 Cloud-Managed router
The Cradlepoint R1900 Ruggedized 5G router is an industrial wireless 5G router, so it uses the NEW 5G LTE as its internet connection. Before Most Vendors have come out with their first 5G products, Cradlepoint is rolling out its second generation. And these are of clean-slate-designed!
The R1900 is built to support the full speed and capabilities of 5G. It is the industry's first built-for-5G mobile router optimized for in-vehicle networks.
Great. What does 5G mean?
It is a nebulous term. But let's start by saying that the next iteration of mobile networks, 5G, stands for fifth generation. It'll deliver a much faster and much more capable service than its predecessor 4G. Fort example, download speeds of up to 10Gbps and latency (the time taken to open a downloaded file) of 1 millisecond.
To put this into context, the phone you're most likely using right now is capable of download speeds of 300 Mbps. To download a full-length film on 4G it'll probably take you around 2-3 minutes, but on 5G you'll be ready to press play in 4-40 seconds.
So, in order to connect to the 5G network, you'll need to be using a 5G-ready device. That means things like a 5G-specific modem, a larger battery and faster, more powerful processors to support the more data-heavy tasks enabled by using 5G.
Performance of the R1900
The R1900 is the first to utilize Cradlepoint's second-generation 5G architecture. It supports nationwide coverage (low-band) and capacity (mid-band) networks at up to 1Gbps, as well as gigabit LTE. Like all Cradlepoint appliances, it is powered by the Cradlepoint NetCloud Service. The R1900 delivers full-throttle 5G speeds.
Order your Cradlepoint R1900
Cradlepoint R1900 Ruggedized 5G router w/ NetCloud Mobile Performance Essentials Plan:
Cradlepoint R1900 Ruggedized 5G router w/ NetCloud Mobile Performance Essentials and Advanced Plan:
It also comes with enterprise-class security and SASE support, IoT connectivity with Bluetooth, and edge computing for Microsoft Azure IoT Central or AWS Greengrass.
The R1900's WAN Connectivity is 5G and LTE (CAT20) wireline (via gigabit Ethernet), and a dual modem option. LAN Connectivity is simultaneous dual-band Wi-Fi 6 (2×2) and 4 gigabit Ethernet ports. It also has long-range, low-power Bluetooth 5.1 to support IoT connectivity, and Discrete GNSS location GPS with dead reckoning and OBD-II integration.
NetCloud IoT Package
The Cradlepoint R1900 is sold as a package with a cloud-based plan called NetCloud. It is a secure, cloud-based networking plan built for Internet of Things and machine-to-machine uses. It's similar to the bundles that firewalls often come with. This cloud-based service adds greatly to the features and capabilities of your router. For example, NetCloud offers secure, cloud-based management and control of your R1900. Netcloud is offered in three and five-year software subscriptions that include 24×7 support.
In conclusion, if you need to provide wired networking and powerful Wi-Fi to mobile fleet – the R1900 might be worth a look. And, if you have any further questions about the R1900, Wi-Fi, LTE, or anything else, please email us or call Corporate Armor at 877-449-0458.
Cradlepoint R1900 Highlights
5G and LTE (CAT20) wireline connectivity
4 GbE (LAN/WAN switchable) Ethernet Ports
Dual-band, dual-concurrent; 802.11ax Wi-Fi
940 Mbps Firewall Throughput
View all Cradlepoint lines.
---
Read more