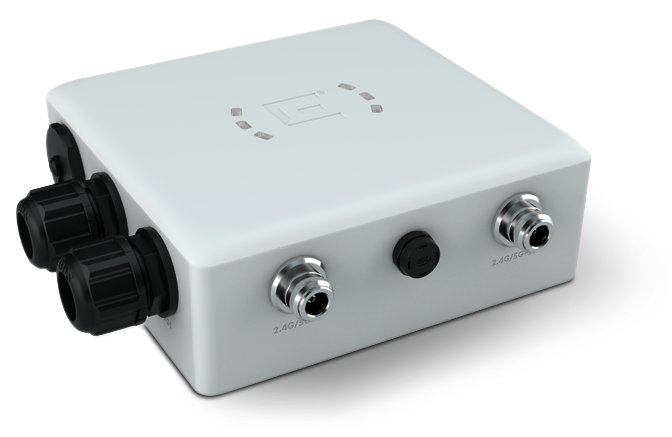 Extreme AP360i/e Wi-Fi 6 access point
The Extreme AP360i/e access point is based on new system-on-a-chip architecture. It has dual 2×2 software-programable radios. It's designed to support dual 5 GHz deployments. And, the AP360 offers the choice of integrated or external antennas (i/e).
As a Wi-Fi 6 device, the Extreme AP360i/e delivers high-performance wireless. It's designed for harsh, high-density environments, and is IP67 outdoor-rated. It's good for hurricane force winds to sub-zero temperature. It has integrated Bluetooth Low Energy and Zigbee for IoT connectivity. And it has 4 Gigabit Ethernet ports that can power digital phones, IoT sensors, or cameras.
AP360 security features
The AP360 provides context-based security and performance optimization. These technologies are especially designed for multi-dwelling environments. It is accomplished through an on-board stateful L2-L7 DPI firewall, advanced and customizable Quality of Service for traffic optimization, encrypted client tunneling, and more. (continued)
The Extreme AP360i/e is a very capable hospitality access point. It has a great set of features for an SMB device. It's designed to be easy to set up and easy to manage over large number of users. And it's tough to break in to. If you would like to know more about the Extreme AP360i/e, please email us. Or, you can call Corporate Armor at 877-449-0458.
Extreme AP360i/e highlights
| | |
| --- | --- |
| Cellular Coexistence Filter minimizes interference from cellular networks | |
| Integrated Bluetooth Low Energy and Zigbee for IoT connectivity | |
| Dual-radio 2×2:2 | |
| On-board stateful L2-L7 firewall | |
View all Extreme lines.
---
Read more
Don't see what you're looking for? Give us a call at 877.449.0458.