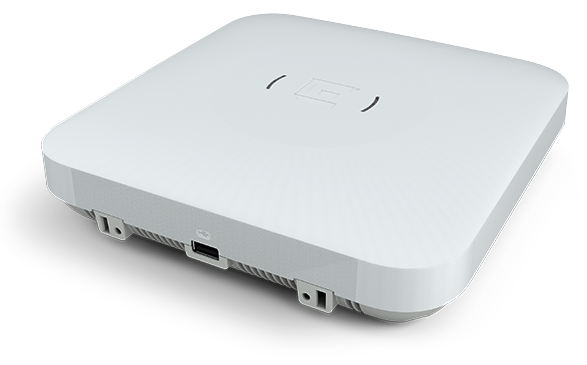 Extreme AP505i Wi-Fi 6 access point
The Extreme AP505i is a high performance, enterprise 802.11ax access point. It's priced ideally for retail, education, hospitality and healthcare. That means it can support a high density of users and devices. And it can do it while delivering a great user experience.
The AP505i is powered by the WiNG 7 operating system. WiNG's distributed architecture places the intelligence at the edge. From there, it unleashes the true capabilities and performance of Wi-Fi 6, without bottlenecks and limits. WiNG incorporates the functionality of a controller in each access point. This enables network solutions without the need of a controller. It does this with a virtual controller that supports up to 64 access points. It can also support hardware/VM controllers that can support up to 25000 access points.
Extreme AP505i security features
The Extreme AP505i provides context-based security and performance optimization. These technologies are especially designed for multi-dwelling environments. It is accomplished through an on-board stateful L2-L7 DPI firewall, advanced and customizable Quality of Service for traffic optimization, encrypted client tunneling, and more.
And the AP505i includes the latest WPA3 Wi-Fi security standard with 192-bit encryption and delivering robust protections for users and IoT devices.
Get a quote for the AP505i
Summary
The Extreme AP505i delivers exceptional end-user experience. Even in dense user environments such as stadiums, large public venues, convention centers and school auditoriums.
It is designed to be easy to set up, easy to manage over large number of users, and tough to break in to. If you would like to know more about the Extreme AP505i Wi-Fi 6 access point, please email us or call Corporate Armor at 877-449-0458. Thanks for reading!
Highlights of the Extreme AP505i
| | |
| --- | --- |
| Uses a virtual controller that supports up to 64 access points | |
| Cellular Coexistence Filter minimizes interference from cellular networks | |
| Integrated Bluetooth Low Energy and Zigbee for IoT connectivity | |
| 4×4:4 MU-MIMO | |
| On-board stateful L2-L7 firewall | |
Read our review of the AP505i
View all Extreme lines.