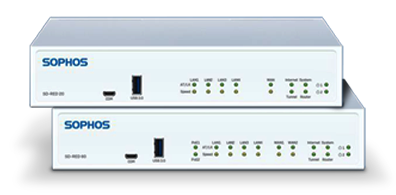 Sophos SD RED Remote Ethernet Device
With a Sophos SD RED device, you can connect remote sites. For example, you can connect branch offices to your main office as if the branch was part of your local network.
How it works
Thousands of small businesses now have employees working from home that have no prior experience with remote work. And SD-RED appliances make this SO much easier with a truly plug-and-play, zero-touch deployment. You need no technical skill to install an SD-RED device. All you do is type the device ID into your Sophos firewall. Then, just ship your SD-RED to its destination. Once you plug it in, the SD-RED will connect to the Internet. It will then call back home to your primary firewall, and automatically establish a secure VPN tunnel. All by itself.
What do I need?
The setup consists of a Sophos firewall in your main office and a Sophos SD-RED in your remote office. Establishing the connection is a total snap, since you don't have to configure REDs at all.
As soon as it is up and running, it behaves like any other device on your network. And all the traffic of your remote office is as secure as your local network.
Through the XG Firewall platform, you can extend Synchronized SD-WAN to multiple locations. This means not only are you replacing expensive, unstable MPLS with super intelligent SD-WAN capabilities.
Choose your SD RED
When an SD-RED is centrally managed You're also protecting traffic that travels those SD-WAN connections. It gets the same Synchronized Security and Sophos Security Heartbeat features that employees would enjoy on the 'home' network.
An SD-RED device acts as sort of a relay for the main office's network, out to where you are. Wherever you might be. And it's protected and managed in and by the firewall back at 'home.' 
The SD RED 20
The SD RED comes in two models, the SD RED 20 and SD RED 60. SD-RED 20 has maximum throughput of 250 Mbps. There are 4 LAN interfaces (1 GbE copper), and 1 WAN interface. It also has 2 USB ports.
The SD RED 60
The SD RED 60 has a maximum throughput of 850 Mbps, and the same number of LAN interfaces. But it boasts 2 WAN ports, instead of the single WAN port on the SD-RED 20. In addition, it also has two PoE ports, for a total of 30W.
Have questions? Call Corporate Armor at 877-449-0458, or email us at [email protected].
View all Sophos lines.