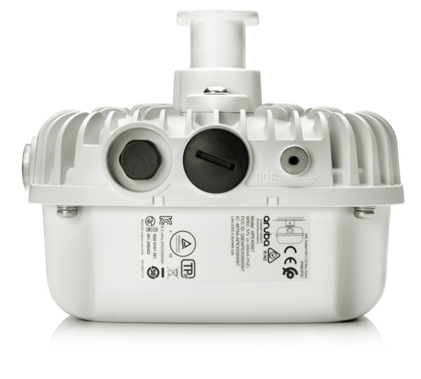 Aruba AP565 ruggedized access point
The Aruba AP565 access point is a weatherproof and temperature-hardened device that delivers multi-gigabit Wi-Fi to outdoor and environmentally challenging locations. This is a 2×2:2 Wave 2 MU-MIMO device.

The Aruba AP565 is built to survive in the harshest outdoor environments. They can withstand exposure to extreme high and low temperatures, persistent moisture and precipitation, and are fully sealed to keep out airborne contaminants. All electrical interfaces include industrial strength surge protection. The Aruba AP565 has a maximum data rate of 1.49 Gbps. The main difference between the AP565 and the AP567 is that antennas. The AP565 has built-in omni-directional antennas, the AP567 has 90H x 90V directional antennas.
Incredible efficiency
The AP565 is designed to optimize user experience by maximizing Wi-Fi efficiency and dramatically reducing airtime contention between clients. Features include Orthogonal frequency-division multiple access (OFDMA), multi-user MIMO and cellular optimization. With up to 2 spatial streams, the 560 Series provides reliable connectivity for most any application.
Why you'll like the Aruba AP565 access point
It has great, easy-to-use technology, and great range! With the Aruba AP565 access point, it's easy to set up multiple AP's, including guest access. There is no dedicated controller needed. Simply power up, plug into your network, and connect.
Even if you are not familiar with Aruba products, they are easy to master quickly. And if you need to reconfigure, using Instant Mode makes configuration straightforward.
Wi-Fi 6 and MU-MIMO
And Aruba's patented AI-powered ClientMatch technology eliminates sticky client issues by placing Wi-Fi 6 capable devices on the best available AP. Session metrics are used to steer mobile devices to the best AP based on available bandwidth, types of applications being used and traffic type – even as users roam.
Since we have years of Aruba experience, Corporate Armor is your best bet if you want to find out more about the Aruba AP565 access point. Our advice will be driven by your unique needs, nothing more. Just call 877-449-0458, or email [email protected].
Highlights of the Aruba AP565 access point
Maximum concurrent data rate of 1.49 Gbps
Includes Aruba's patented ClientMatch technology
Delivers high performance to harsh, environmentally challenging environments
Operate in Controller-managed or Aruba Instant mode
View all Aruba lines.
Learn more!