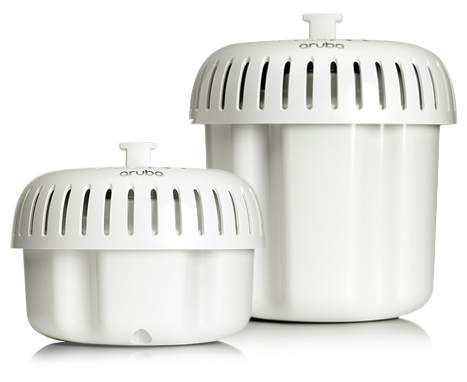 Aruba AP570 EX series ruggedized access points
The Aruba AP575EX Wi-Fi 6 access point is part of the Aruba 570EX series, along with the AP577EX. The difference is that the AP575EX has built in Omni Directional Antennas, while the AP577EX has built in 90°H x 90°V Directional Antennas. Most of what is said in this article applies to both models.
The Aruba AP575EX is a weatherproof and temperature hardened access point. They provide wireless connectivity in outdoor and environmentally challenging locations such as oil rigs, mining facilities, and industrial plants. Places where networks need to be protected from extreme temperatures, flammable gases or vapors, and dust concentrations. In fact, they feature Class 1 Division 2 and ATEX Zone 2 certification.
They can also withstand exposure to extreme high and low temperatures and persistent moisture and precipitation. Plus, they're fully sealed to keep out airborne contaminants. All electrical interfaces include industrial strength surge protection.
Okay, the Aruba AP575EX is tough – is it fast?
The Aruba AP575EX brings high-performance connectivity for any organization experiencing growing numbers of IoT and mobility requirements. It reaches up to 3 Gbps aggregate on-air data rate (HE80/HE20). It delivers 4×4:4SS MU-MIMO capability, Aruba ClientMatch and integrated Bluetooth to enable Aruba location services. With up to 4 spatial streams, you'll have reliable connectivity for just about any application. So it's a step up in performance from the AP565EX.
More on Wi-Fi 6 for OFDMA and WPA3
Aruba's powerful ClientMatch technology and an integrated Bluetooth beacon can help enable Aruba location services. This support for Client Match, plus OFDMA and MU-MIMO, means the Aruba AP575EX can handle multiple clients on each channel, regardless of device or traffic type. Client Match eliminates sticky client issues by placing Wi-Fi 6 capable devices on the best available AP. It smartly steers mobile devices to the best AP based on available bandwidth, types of applications and traffic type. It does this even as users roam.
Since we have years of Aruba experience, Corporate Armor is your best bet if you want to find out more about the Aruba AP575EX access point. Our advice will be driven by your unique needs, nothing more. Just call 877-449-0458, or email [email protected].
Key features of the Aruba AP575EX Wi-Fi 6 access point
3 Gbps maximum real-world speed
Includes Aruba's patented ClientMatch technology
Delivers high performance to harsh, environmentally challenging environments
Operate in Controller-managed or Aruba Instant mode
View all Aruba lines.
Learn more!