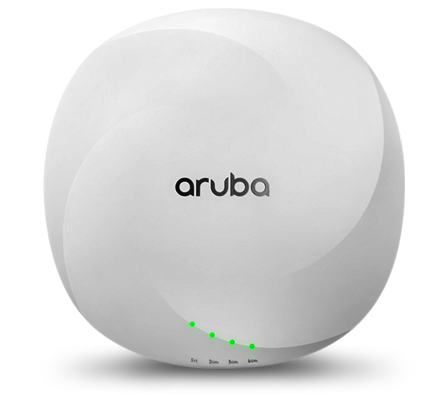 Aruba AP650 Wi-Fi 6E access point
The Aruba AP650 Wi-Fi 6E series are powerful, new 4×4 Wi-Fi 6E access points. They are built for enterprises who need more wireless capacity and wider channels. It is Aruba's flagship Wi-Fi 6E access point. The 650 Series are fully equipped to support the 6 GHz band. It provides faster performance, wider channels, and minimal interference. The Aruba AP650 series is built for the most demanding environments.
Wi-Fi 6E!
Wi-Fi 6E provides up to 1200 MHz in the 6 GHz band. That will deliver for higher throughput and improved application performance. With up to seven 160 MHz channels, Wi-Fi 6E does better on low-latency, bandwidth hungry things like high-definition video and artificial reality/virtual reality. Only Wi-Fi 6E capable devices can use the 6 GHz band. So there is no interference or slowdowns due to legacy devices.
The AP650 has up to 1200 MHz of new channels. This means the Aruba AP650 has nearly triple the capacity of the previous generation of wireless. As a result, you can meet growing demands of bandwidth-hungry video, increasing numbers of client and IoT devices, and growth in cloud.
Some numbers on the Aruba AP650 Wi-Fi 6E access point
The Aruba AP650 Wi-Fi 6E access point is part of the low power indoor device class. This class uses lower power levels. Plus, it does not require an Automated Frequency Coordination service to manage incumbent outdoor services which is required for standard class APs.
And, the AP650 series includes the new Wi-Fi 6E standards such as WPA3 and Enhanced Open. It also has WPA2-MPSK for stronger encryption and authentication.
The Aruba AP650 has an aggregate peak data rate of 7.8 Gbps. Blistering. That's actually twice the data rate of the AP630 series, which is also Wi-Fi 6E. In addition, it supports 1024 associated clients per radio, and features UL/DL OFDMA, and MU-MIMO.
With its' remarkable efficiency and throughput, the AP650 Series meets all the requirements for Wi-Fi 6E certification with room to grow. So you can meet today's need and support future growth. It joins the 630 Series in, providing more options for you.
Summary
And don't worry about compatibility issues with existing hardware. The new Aruba 650 series features backwards compatibility for 2.4GHz and 5GHz clients, support for existing PoE standards, and Aruba's usual suite of security and failover features.
If you want to know more about the amazing, futuristic Aruba AP650 Wi-Fi 6E access point, just email us, or call Corporate Armor at 877-449-0458.
Aruba AP650 Wi-Fi 6E access point highlights
Comprehensive tri-band coverage across 2.4, 5, and 6 GHz bands
7.8 Gbps maximum aggregate data rate
High availability with 2 x 5 Gbps dual ethernets port for hitless failover of Ethernet and power
Up to seven 160 MHz channels in 6 GHz support low-latency, bandwidth-hungry applications
Unique Ultra Tri-Band filtering enables 5 GHz and 6 GHz to operate without restrictions or interference
View all Aruba lines.
Learn more!