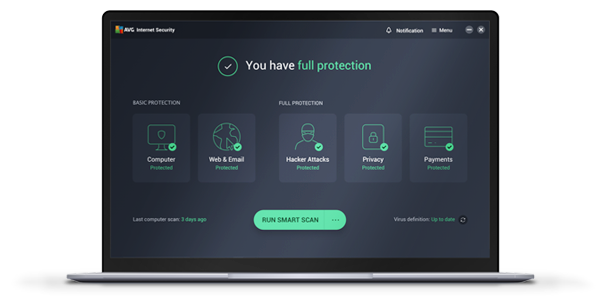 Protect every part of your online life
AVG Internet Security is our first line of defense for your PC
AVG has a very good free antivirus utility, but if you want more than be basics you'll want to upgrade to AVG Internet Security. This suite adds several components, such as webcam protection, pro-level Android and iOS features, and tools for securing important data.
AVG Internet Security gets excellent results from independent labs, and it doesn't have much of an impact on system performance.
A single AVG Internet Security subscription is quite affordable, but If you upgrade a step, you can get protection on up to 10 devices. It's a much better value than the base plan. Plus, this tier also includes AVG's mobile protection products, AntiVirus Pro for Android and the pro-version of AVG's Mobile Security app for iOS.
AVG offers another bundle, AVG Ultimate. It combines AVG Internet Security (Windows and macOS), AVG TuneUp (for Windows and macOS), AVG's Secure VPN (Windows, macOS, Android, and iOS), and both AVG's AntiVirus Pro and Cleaner Pro tools (Android). It covers up to 10 devices.
AVG Internet Security features
AVG guards computers with multiple protective levels and shields. It starts with traditional viral scans against a threat list backed up by machine heuristic scanning. AVG's CyberCapture nabs anything that goes through these networks. Then, after quick analysis, it creates a fix using artificial intelligence. Amazingly, this often takes only seconds.
The company updates users' systems several times a day to stay ahead of the hackers. Plus, AVG has excellent anti-phishing and anti-ransomware, and scores well in malware blocking, as well.
More cool features
Webcam spyware can peer into your bedroom, office, or wherever the cam might reside. Whether it appears to be on or not. Fortunately, AVG is among the security companies that offer protection from webcam spyware. AVG and Avast offer their Webcam Protection features to all non-free users.
AVG's Fake Website shield is the only option within this section. When enabled, this setting protects you from being redirected to a fake site as a result of a DNS attack.
Corporate Armor gives you uninterrupted 5-star service and years of experience working with AVG. Why not email us or call 877-449-0458 and let us give you a very quick, VERY competitive quote?
Highlights of AVG Internet Security
Hides your online activities
Webcam Protection feature
Chromium-based Secure Browser
Proactively identifies malware samples