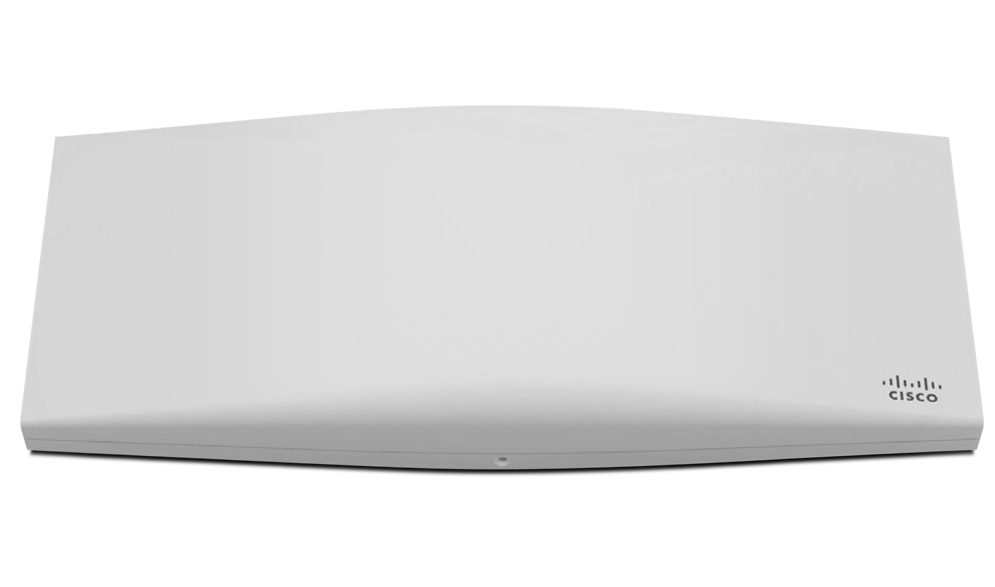 Cisco Meraki MR55
The Meraki MR55 Wi-Fi 6 access point is a cloud-managed 8×8 802.11ax MU-MIMO device. It's designed for high-density public environments, and for faster browsing and downloading from mobile devices. Companies with 5G deployments, as well as offices with high-bandwidth usage would also benefit.
Simple set-up
Out of the box, the MR55 needs to be configured in your Meraki Cloud Management portal. But don't worry, it has a very user-friendly interface where you can easily enter all the settings your access point needs, before connecting the device to your network. And, since it's a PoE device, you have only one cable providing power and data, further simplifying things.
If the MR55 is configured in the Meraki Cloud, you just plug it in and power it on. It's that simple. Your AP will update with its configuration and will install any firmware updates at the same time. This usually takes about 10 to 30 minutes. Of course, further updates are scheduled well in advance and come of no surprise when they happen.
And, there's a cool feature once you've completed setup of your initial device. Afterwards, all subsequent Meraki devices simply pull down their configuration from the cloud and coordinate with other installed devices. This maximizes efficiency within your network.
Under the hood of the MR55
This access point has dual concurrent 2.4 Ghz and 5 Ghz radios. And, the MR55 provides a maximum of 5.9 Gbps coming from a 5G Ethernet connection. Plus, there's a dedicated radio that provides real-time WIDS/WIPS with automated RF optimization. There's also a low-power Bluetooth beacon, which can be used to track user movements around your property, or to broadcast messages directly to devices. Have questions? Call 877-449-0458, or email us at [email protected].
View all Meraki lines.
Configure Your Meraki
---
Cisco Meraki Enterprise License Options
Cisco Meraki MR55 Enterprise License:
---
Meraki MR55 Wi-Fi 6 access point
802.11ax Wi-Fi 6
Concurrent 5 GHz and 2.4 GHz radios
5.9 Gbps Max Aggregate Frame Rate
8×8 MU-MIMO
Incredibly easy to set up and manage
Cisco Meraki MR55 Accessories
---
Read more