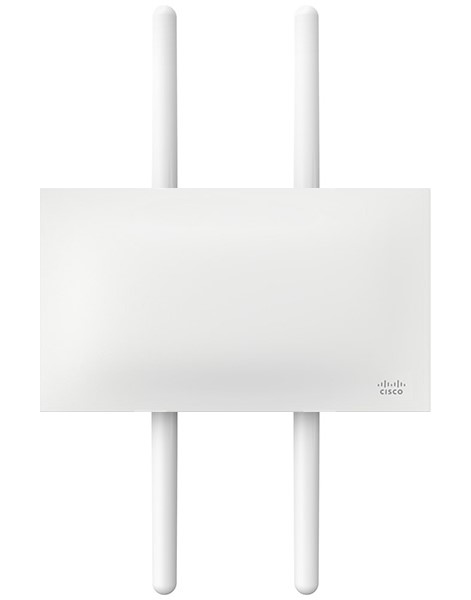 Cisco Meraki MR74 Dual-band 2×2 MIMO 802.11ac Wave 2 Access Point
General purpose industrial / outdoor 802.11ac Wave 2 wireless
The Meraki MR74 is exceptionally easy to learn and operate, and 100% cloud-managed. Largely self-configuring, MR74 access points can be remotely deployed in minutes, and most actions in the cloud interface are point and click. That means you can have fully remote IT support for your hardware, virtually all the time. This greatly reduces or even eliminates the need for full-time IT staff on site. Once you are up and running, you have an unprecedented level of monitoring, reporting, and control of your network.
The MR74 is one of the best ruggedized and weatherproofed 802.11ac Wave 2 access points on the market. It's IP67-rated, near the top for such devices. It is fully protected against impacts, shocks, dust and other debris. Its waterproofing would allow it to be submerged in up to a meter of water for half an hour without any problem, which means it could stand up to virtually any weather conditions. In addition, it has an excellent operating temperature, range, from -40 °F to 131 °F (-40 °C to 55 °C).
Under the hood is a dedicated third radio for full-spectrum RF analysis, by which the MR74 basically tunes and optimizes its channel and power useage to adapt to the most difficult RF environments. The MR74 also has a four (4) port Gigabit Ethernet RJ45 switch, an integrated BLE Beacon and scanning radio, 24×7 real-time WIPS/WIDS, spectrum analytics, WiFi, and 1.3 Gbps aggregate dual-band frame rate.
Have questions? Call 877-449-0458, or email us at [email protected].
View all Meraki lines.
Configure Your Meraki MR74
Cisco Meraki MR74 with Enterprise License & 4 Dual-band Omni Antennas:
---
Renew your Cisco Meraki Enterprise License
Cisco Meraki MR74 Enterprise License:
---
Cisco Meraki MR74 Accessories: