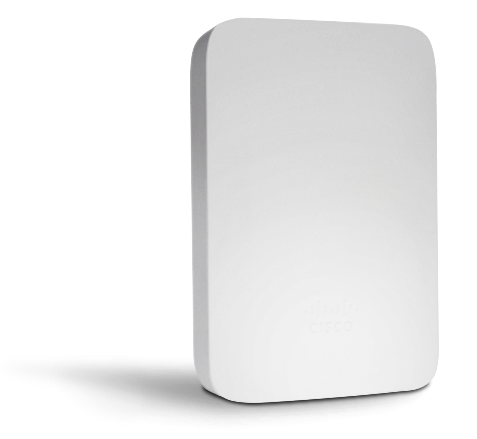 Meraki MR36H Wi-Fi 6 Access Point
The Meraki MR36H Wi-Fi 6 access point is perfect for the needs of hotels, college dorms, and similar applications. But don't think that it's limited to that application. It will have a lot of versatility for numerous functions.
The Meraki MR36H is an 802.11ax Wave 2 Wi-Fi 6 access point. It has 2×2 MU-MIMO antennas and moves up to 1.7 Gbps of data. That comes to up to 1.2 Gbps at 5 GHz and 573 Mbps at 2.4 GHz. Features like transmit beamforming and enhanced receive sensitivity give the Meraki MR36H a higher client density than typical access points, resulting in better performance for more clients, from each AP. The MR36H also has UL/DL OFDMA. It also sports 3 wired access ports and a Passthrough port integrated.
About the Passthrough port
The Meraki MR36H has a unique port, called Pass-through port, which links directly the second port on the back in the first physical port on the bottom of the access point. It works similar to an extension cord. Which is to say, it will physically link the input of the back port to the output of the bottom first port. In addition, it has 4-10/100/1000 Ethernet ports.
Use cases
The MR36H makes perfect sense in hotel rooms and such, so visitors can connect to the Internet via either WiFi or Ethernet. Which one depends on their hardware preferences. The Bluetooth Beacon support adds a lot of potential for user interaction via mobile devices as well, such as messaging or delivering custom splash pages. A hotel could send visitors directly to a list of provided services, or a dorm room could take students to a page with school-specific information.
Meraki MR36H Features
The Meraki MR36H has integrated, easy-to-use security technologies to provide secure connectivity. And these are features that perfectly suit its' hospitality-geared use case. Advanced features like AES hardware-based encryption and Enterprise authentication with 802.1X and Active Directory integration. These provide wired-like security while still being easy to configure. One-click guest isolation provides secure, Internet-only access for visitors. PCI compliance reports check network settings against PCI requirements to simplify secure retail deployments.
Choose your Meraki MR36H option
Cisco Meraki MR36H with Enterprise License:
Incredibly easy to use – of course
Merakis are well-loved for simple, drag-and-drop setup. In addition, they are also super-easily, super-safely cloud managed. All of them. Lots of access point makers tout this; Meraki accomplishes it better than almost anyone. And Meraki's new WiFi 6 AP, MR36H, is no different.
As with all Meraki products, the MR36H uses a powerful cloud-based setup that allows it to pretty much configure itself. Once that's done, all subsequent Meraki devices simply pull down their configurations and coordinate with other installed devices. It's very easy and efficient.
This is particularly nice in the case of the Meraki MR36H Wi-Fi 6 access point, since users could potentially be setting up dozens at a time. Setup time for each room would only be a few minutes, and that's mostly just the time needed to mount each one to a wall.
The Meraki MR36H is very suitable for schools, shops, hotels, hospitals and the like. It will give you more ceiling, more wiggle-room, and more room to grow future-ward than older APs. Remember, the primary idea behind WiFi 6 was more to increase the user # without hiccups or interruptions.
Finally, please remember that Corporate Armor sees each of our customers as a unique relationship. As a result, your needs are unique and we will meet them personally and quickly. We are never more than a few seconds away, whether you email us or call us at 877-449-0458.
Cool stuff about the Meraki MR36H
802.11ax Access Point
Transmit beamforming and enhanced receive sensitivity for higher client density
2×2:2 MU-MIMO 802.11ax
Integrated Bluetooth Low Energy Beacon
Simple, plug-and-play set-up and management
Up to 1.7 Gbps aggregate data rate
View all Meraki lines.
---
Read more