ESET Enterprise Inspector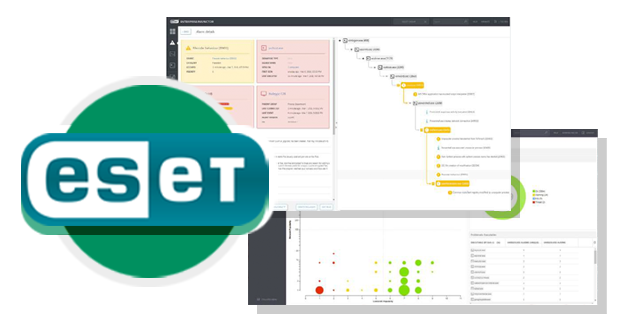 Outstanding visibility and remediation with the ESET Endpoint Protection platform
ESET is no newcomer to the field of antivirus and EDR. And with ESET Enterprise Inspector, ESET has made it clear they're not going anywhere soon.
EEI is a very sophisticated tool. Added to any of the ESET Endpoint Protection products, it handles anomalous behavior identity and breaches, risk assessment, incident response, investigations and remediation.
What does ESET Enterprise Inspector do?
EEI provides outstanding visibility and synchronized remediation with the ESET Endpoint Protection suites. It's also available as part of ESET's Managed Detection & Response service.
EEI collects data in real-time on endpoint devices. The data is matched against a set of rules to detect suspicious activities automatically. Then the gathered data is processed, and the information is prioritized and correlated in a searchable form. This data allows a security professional to search for unusual and suspicious activities more easily. It also enables efficient and accurate incident response, management and reporting.
ESET's products incorporate the latest approaches to discovering and preventing malware. This includes advanced ML detection models, exploit prevention, memory analysis, and anti-stealth technologies that can eliminate hard-to-discover UEFI and MFT rootkits.
New detection capabilities
EEI features improved detection capability for advanced code injection methods. It can also invalidate trust attributes of compromised processes. In addition, it provides greater visibility into file reading operations for specific scenarios (e.g. reading of passwords), as well as greater visibility into WMI Query behavior.
What does this mean in layman's terms? EEI is ideal for threat hunting. It proactively prevents future attacks, including insidious APTs. EEI analyzes vast amounts of data in real-time. This reduces response time, remediates issues and improves overall security. It also helps implement the Zero Trust Framework for strict security.
Overall, ESET is powerful, well-designed endpoint protection. It delivers standout threat detection. Plus, it is nicely balanced between being easy to use and effective. ESET serves the whole security market, from SMBs to enterprises.
Any questions? Email us or call Corporate Armor at 877-449-0458.
ESET Enterprise Inspector superpowers
Detects advanced persistent threats
Stops fileless attacks
Blocks zero-day threats
Protects against ransomware
Prevents company policy violation
---
Read more