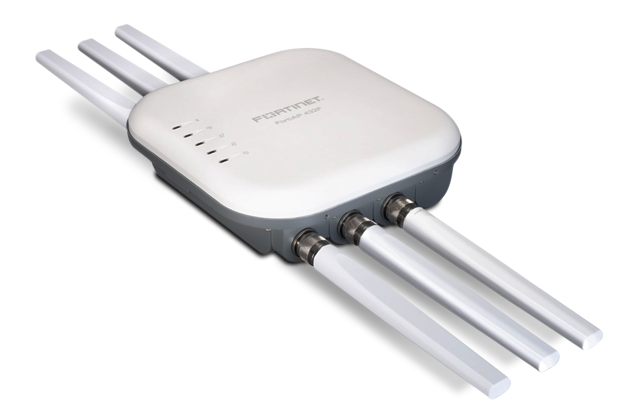 FortiAP 432F access point
The exciting, brand-new Fortinet FortiAP 432F access point is a ruggedized Wi-Fi 6 device with three internal antennas. It has a surprisingly friendly price for such state of the art hardware. It also has features such as OFDMA and is PSE-capable.
This 2×2:2 MU-MIMO device has three radios, a 2.4 GHz, a 5 GHz, and a separate scanning radio. It delivers 574 Mbps and 1.2 Gbps Maximum Data Rate, respectively. There is also a Bluetooth Low Energy radio. Additionally, it has dual 1 Gbps Ethernet ports for PoE+ flexibility.
What's so great about Wi-Fi 6?
WiFi shares bandwidth among endpoint devices. And, when you are in a high-traffic area with lots of access points, their coverage areas will overlap. So, as you walk through someplace like an airport, you can be moving from one access point to another.
Your endpoint (phone) is one of maybe thousands of APs and endpoints yelling and hiccupping at each other over the other devices. Get enough devices in the same area and efficiency and performance will suffer.
What WiFi 6 does, is it opens up more lines for endpoints to talk on, so they don't have to wait as long for their turn. It also allows more data into each packet, which can increase total throughput by nearly 40%. You end up with faster, more efficient performance, and even lower energy usage.
FortiAP 432F Wi-Fi 6 access point –
802.11ax ruggedized access point. 2×2 MU-MIMO device with three radios, a 2.4 GHz, a 5 GHz, and a separate scanning radio, and UL/DL OFDMA.
Features
As mentioned, the FortiAP 432F provides three radios with internal antennas as well as OFDMA and dual 1 Gbps Ethernet ports. It can provide 24/7 scanning across both bands while still providing access on both the 2.4 and 5GHz bands. The integrated BLE radio can be used for beacons and locationing applications. It can support 512 wireless clients per Wi-Fi radio.
The FAP 432F is ideal for high-density public and outdoor environments. Since it's designed for faster browsing and downloading from mobile devices, companies with 5G deployments and offices with high-bandwidth usage would also benefit. It can be managed either by the built-in WLAN controller of your FortiGate, or the easy-to-navigate FortiAP Cloud portal.
But since we're premier Fortinet specialists, Corporate Armor is your best bet if you want to find out more about the FortiAP 432F. Our advice will be driven by your unique needs, nothing more.
So please reach out to us here, or call 877-449-0458. We can't wait to serve you!
FortiAP 432F highlights
Dual 1 Gbps Ethernet ports
Three radio/antenna, 2×2 MU-MIMO
1.2 Gbps Maximum Data Rate on the 5 GHz band
574 Mbps Maximum Data Rate on the 2.4 GHz band
View all Fortinet lines.
---
Learn more