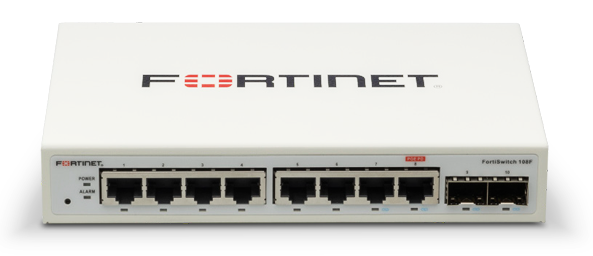 FortiSwitch 108F managed switch
The new FortiSwitch 108F managed switch is a Layer 2 (Data Link) networking appliance. We are going to look at it's performance, but first, a few words on switches generally.
A switch is a device that takes in packets (of data) coming from devices that are connected to its physical ports and sends them out again. However, it sends them only through the ports that lead to the correct devices. In other words, switches connect Ethernet IP devices and forward information between them.
On the other hand, a managed switch is designed to communicate across multiple networks while simultaneously providing built-in network security and improving the network's bandwidth by prioritizing packet requests.
How do I manage all these functions?
A good switch should be simple to set up and manage. The FortiSwitch 108F is tightly integrated into the Fortinet Security Fabric via FortiLink, an innovative managing tool. This allows any FortiGate firewall to seamlessly manage any FortiSwitch. At that point, you can manage the FortiSwitch directly from the familiar, easy-to-grasp FortiGate interface. It provides complete visibility and control of users and devices no matter how they connect.
Features and performance of the FortiSwitch 124F
The FS108F has a total of 7 x GE RJ45, 1x GE/POE-PD RJ45, and 2x GE SFP ports. Each port on the FS108F can convert to an individual interface. As a result, you can individually manage each port. The FortiSwitch series comes with up to 48 ports, as well as PoE and FPoE options.
The FS108F pushes 30 Mpps and 20 Gbps switching capacity. It also supports 4K VLANS. It has 32 MB of Flash storage on board.
And building a small business network is not possible without switches to tie devices together. So if you have any questions, give Corporate Armor a call at 877-449-0458 or email us at [email protected]
FS108F highlights
| | |
| --- | --- |
| 30 Mpps (Packets per second) | |
| 20 Gbps switching Capacity | |
| 32 MB of Flash storage | |
| Completely isolates compromised devices | |
Read our review on the FortiSwitch 108F here!
View all Fortinet lines.