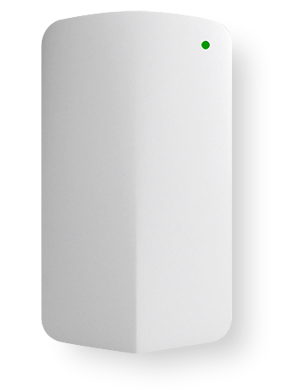 Meraki MT10
Like everything Meraki makes, itthe Meraki MT10 is easily and masterfully controlled from the cloud. Meraki's cloud platform allows you to deploy anywhere, and control everything. Real easy. The Meraki MT10 is the entry in to a family of cloud managed environmental sensors.
Why would you want this?
These sensors enable you to do a lot of things. The MT10 temperature and humidity sensor provides real time visibility into your physical environment. And it automatically pairs with Wi-Fi 6 MR access points and 2nd Generation MV smart cameras via BLE for near-instant setup and seamless scalability.
You can quickly set up and manage as many environmental sensors as you want, to monitor temperature, humidity, leaks, and intrusion. Just insert the batteries and add to the dashboard. It's literally that simple. MT environmental sensors automatically connect to existing MR and MV devices. No more on-premise servers, dedicated gateways, and management software.
With the MT10, you can understand trends about your physical environment. Increase HVAC efficiency, reduce carbon footprint, minimize inventory loss or prevent downtime of business-critical assets. And that's just the beginning. You can build on top of the Meraki platform using APIs or the vast partner community and customize workplace operations.
The MT10 is secure!
Of course it is! Each Meraki MT sensor features a Trust Anchor module. This securely authenticates the device and encrypts all communication with the sensor gateways. Combined with automated firmware updates, the MT10 packs a powerful security punch in a smart package.
The MT series Sensor 4-for-2 Offer:
This is pretty straightforward. It involves the MT sensors (you can mix and match models), and 1-year licenses, with a maximum of four sensors (plus license) for the price of two. To repeat: YOU CAN GET FOUR MT SENSORS, PLUS 1-YEAR LICENSES, FOR THE PRICE OF TWO! You just need to reach out to Corporate Armor for discount information. Offer is good thru Jan. 29, 2022.
Cloud management at its' very best
Nothing new about this; Meraki's extremely innovative web-based dashboard has revolutionized networks everywhere. It now brings the same benefits to networked environmental sensors. Huge benefits like zero-touch configuration, remote troubleshooting, and the ability to manage multiple sites through a single pane of glass. Meraki's dashboard makes all this a snap.
And sensors can be easily accessed from anywhere, on virtually any device, like laptops, desktops, and mobile tablets. Corporate Armor are Meraki specialists, and we would love to help you out or tell you more about the Meraki MT10. So please reach out to us here, or call 877-449-0458.
Meraki MT10 highlights
Real time visibility into your physical environment
Quickly set up and manage as many sensors as you want
Understand trends about your physical environment
Built from the ground up to be easy to manage
View all Meraki lines.
---
Learn more