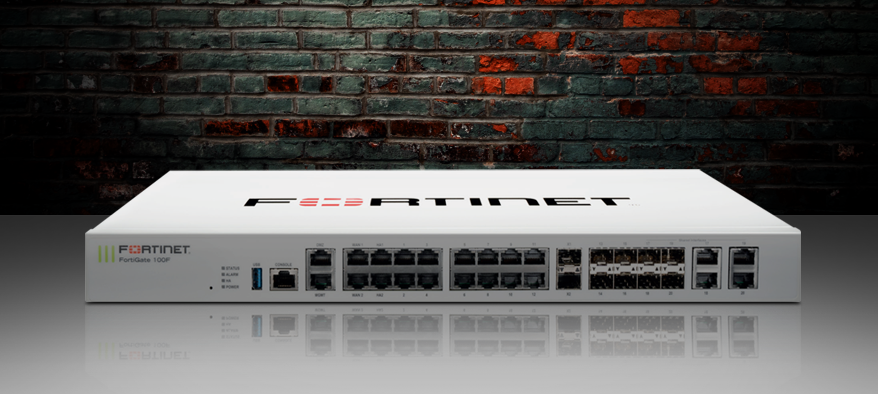 The FortiGate 100F Next-Gen firewall is Fortinet's latest and sleekest security appliance for the mid-range to Enterprise market.
FortiGate 100F features throughput speeds well above similar competition. According to Fortinet, up to 10 times faster than others in the VPN throughput category. But throughput is just one reason why this new firewall stands out.
The other reason? SD-WAN (software-defined wide area network). Purpose-built to handle networking duties and lock-down security duties at the same time.
What's an SD-WAN firewall?
Well, FortiGate 100F can do what it does because of its extraordinary new SD-WAN ASIC processor. It is called the SoC4, and this innovative, first-of-its-kind processor is specifically designed for SD-WAN networking. So, when you drop it under the hood of a purpose-built firewall like a FortiGate, you end up with a beast of a firewall that's really a dual appliance.
It's a big deal because SD-WAN allows offices to connect over the internet. And, when you have SD-WAN built into your firewall, you can do so quite securely. Additionally, a SD-WAN firewall eliminates the need for a dedicated network connection. Fortinet is no longer the only firewall vendor with this ability, but they were the first. And, arguably they're still the best at it.
Why do you say that?
Because, for all its blistering speed and ability, this big-league firewall is refreshingly easy to get up and going. It may be a beast, but only to the bad guys. The SoC4 is the same chip used in all the F series firewalls, including the desktop models. That power provides the luxury of very simplified interfaces which are granular and detailed, but still clear and intuitive.
And, all SD-WAN FortiGates are managed in the same Management Center, by the same Fortinet Security Fabric. From it you can manage your entire network, with all devices, in one window. Terms like "zero-touch deployment," and "do-it-yourself," mean it's super-easy to get up and running and stay that way. The FG 100F is designed to get up and purring like a kitten with minimal investment of time and expertise.
How's the Performance of the FortiGate 100F?
Fortinet says that this firewall is ten times faster than similar firewalls, and the numbers are impressive. Firewall Throughput clocks in at 20 Gbps, NGFW Throughput is 1.6 Gbps, and Threat Protection is 1 Gbps. Also, IPS Throughput is 2.6 Gbps, and SSL/VPN Throughput is 1 Gbps. The 100F can manage up to 128 total FortiAPs, or 64 in Tunnel Mode.
What About Other Features?
The 100F is capable of thoroughly evaluating thousands of traffic flows. It ensures compliance to any required policies put in place. It does this by utilizing continuous threat intelligence to catch and stop any suspicious attacks. Also, it wields high-performance UTM capabilities including anti-spam, firewall, IPS, Web filtering, DLP, VPN, application control, and antivirus. These features will deliver the best protection and ultra-low latency. On the networking side, the 100F incorporates a built-in routing feature to provide excellent performance with scalable encrypted IPSEC tunnels.
Who needs the FG 100F?
The FG 100F is excellent for up to 150 users, possibly more. You can deploy it in a mid-sized Enterprise, main campus, or a branch. If it sounds like a lot to take in, well, the FG 100F is a lot of firewall! But the specialists at Corporate Armor are both able and happy to answer any and all questions. So just email us at Sal[email protected], or call 877-449-0458. Thanks for reading!