If you've read my recent blog posts on the FortiGate 60F, or watched my recent videos comparing the FortiGate 60E to the FortiGate 60F, you probably think I'm not a fan of the FortiGate 60E. But that is far from the truth. I think the FortiGate 60E is a still a great firewall. Sure, the FortiGate 60F is new and shiny. But the 60E is a powerful firewall that has withstood the test of time. So to clarify any confusion, I've decided to put together a list of 5 reasons why I still love the FortiGate 60E.
5. Multi-Layered Security
Companies can no longer rely on one layer of security. You need to take a multi-layered approach when it comes to protecting your network. The FortiGate 60E includes firewall protection, intrusion prevention, anti-virus analysis, application filtering, URL filtering, application filtering, and VPN support just to name a few. Not only are all these services built into the firewall, but they are easy to set up and configure. Many of these services can be configured together under one firewall policy. Because the FortiGate 60E is part of the Fortinet family you can pair the 60E with additional layers of security through Fortinet Security Fabric.
4. Speed
The FortiGate 60E came out almost 5 years ago and it still outperforms some newer model firewalls. Fortinet always delivers a great price to performance value, and the 60E is no exception. The stateful firewall throughput is 3Gbps. IPS Throughput is 1.4 Gbps. NGFW throughput is 250 Mbps. You even get 150 Mbps when using SSL/VPN. You can have up to 100 concurrent VPN users. The FortiGate 60E can handle more than 25,000 new sessions per second and more than half a million concurrent TCP sessions.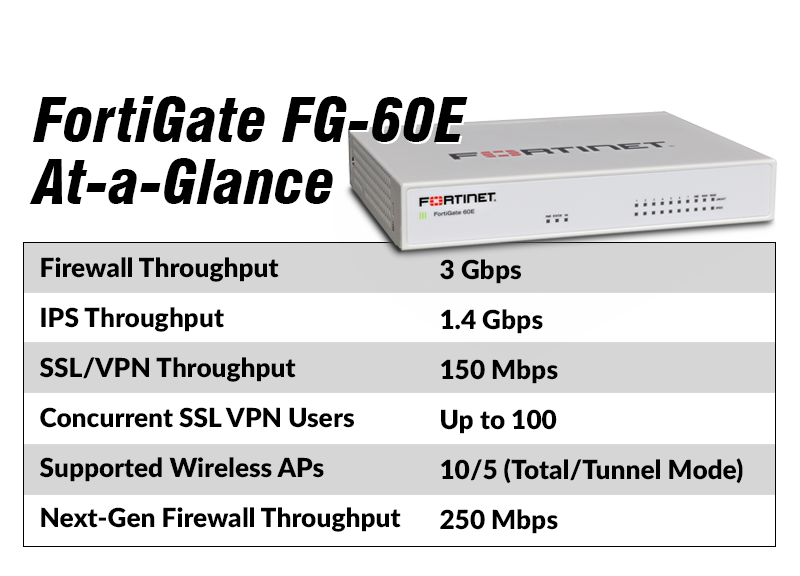 3. SD-WAN
When the FortiGate 60E came out, SD-WAN was not as widely used as it is today. However, the 60E can easily be set up and configured for SD-WAN environments. The secure SD-WAN configuration that is part of FortiOS allows for consistent business application performance with accurate detection, dynamic WAN path steering on any best-performing WAN transport. You also get accelerated multi-cloud access for faster SaaS adoption with cloud-on-ramp. Plus, you get simplified and intuitive workflow with SD-WAN Orchestrator for management and zero touch deployment with the FortiGate 60E.
2. Built-in Wireless
This one only applies to the FortiWiFi 60E. The FortiWiFi 60E comes with built-in wireless capabilities. Which makes this small form factor appliance more than just a firewall. The 60E has built-in dual-band, dual-stream access point capabilities with internal antennas. The 60E provides 802.11 ac wireless access with a maximum WiFi speed of 876 Mbps . You can also connect up to 30 FortiAP's (10 in tunnel mode). You can also manage the FortiAP's directly from the FortiWifi 60E.
1. SoC3 Chip
The FortiGate 60E comes with the SoC3 chip. I know a chip doesn't sound exciting enough to be the number one reason to love a firewall. But without the SoC3 chip, most of the rest of this list wouldn't be possible. Instead of outsourcing their chips to 3rd parties, Fortinet develops their chips in house. Because of this, they can pack a lot of power into their processors. Fortinet combines a RISC-based CPU with Fortinet's proprietary SPU content and network processors for unmatched performance. The SoC3 chip delivers accelerated UTM content processing for superior performance and protection. It also supports firewall acceleration across all packet sizes for maximum throughput. It even accelerates VPN performance for high speed and secure remote access.
FortiGate 60E Conclusion
That's my list. 5 reasons why the FortiGate 60E is still one of the best firewalls on the market. There's a lot more to love about the FortiGate 60E. If you'd like to know more about the FortiGate 60E, or any other FortiGate device, give us a call. Our security experts can tell you all about the FortiGate 60E, and whether it's a good fit for your business.