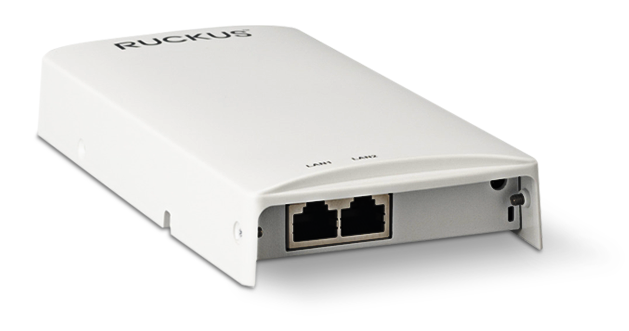 Ruckus offers access points to fit just about any budget, performance requirement or deployment scenario. Our APs provide secure, reliable access no matter how tough the environment. High client density, Wi-Fi-unfriendly building materials, rising employee or customer expectations, and challenging outdoor environments; it doesn't matter. Ruckus is up to the challenge
Every Ruckus access point, from the humblest to the boldest, is packed with patented technologies that go beyond the every day to deliver superior connections and awesome user experiences.
Ruckus H350 Hospitality Access Point
This access point is designed for hotels, education, and other multi dwelling structures. In other words, places where wireless connectivity can carry a hefty price tag.
The H350 is a wall mounted access point, IoT gateway and Ethernet switch. It makes it easy to support the most demanding in room connectivity requirements. It boasts 3×1 GbE Ethernet ports to connect multiple in room wired devices, without extra cabling and add supports for Zigbee® and Bluetooth® Low Energy. And it can be discretely installed over a standard electrical outlet.
This access point supports 512 concurrent users and two radios. It pushes a maximum data rate of 574 Mbps at 2.4 GHz, and 1.2 Gbps at 5 GHZ, for a combined maximum data rate of 1.774 Gbps. It is a 2×2:2 device
If you have any questions about this or any Ruckus product, please don't hesitate to reach out to Corporate Armor or call us at 877-449-0458!
Ruckus H350 Wi-Fi 6 Access Point
802.11ax Wi-Fi 6 Access Point
574 Mbps Throughput at 2.4 GHz
1.2 Gbps Throughput at 5 GHZ
Backwards compatible with legacy devices
---