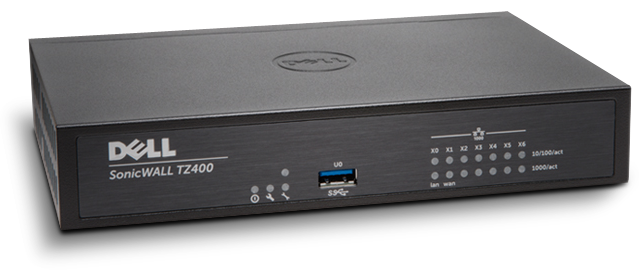 SonicWall TZ400 Next-Gen firewall
Everybody's on a budget, of course. Maybe you're a small business, or a start-up. Or, maybe you're a local government entity. Or, maybe you just don't like wasting money. If you fall into any of these categories, it's nice to know you can have state-of-the-art, top-brand security covering your back. The SonicWall TZ400 Next-Gen firewall is one of those small-to-mid range firewalls that just seems to out-perform it's pricepoint.
For example, the TZ400 can be had for well-under $900 at Corporate Armor. So can the TZ400W. These are excellent appliances easily capable of safeguarding a mid-sized network.
The TZ400 is roughly comparable to the FortiGate 80E. The 80E is a good bit higher in total Firewall Throughput, at 4 Gbps to 1.3 Gbps. However, the TZ400 has IPS of 900 Mbps vs 450 for the FG-80E. In addition, the SonicWall TZ400 pushes 600 Mbps of Threat Prevention, whereas the FG-80E clocks in at 250 Mbps. So, the SonicWall costs somewhat more up front, but you get better speeds in some areas. It just depends on how you will use the firewall, as to which is better for you.
Features
SonicWall TZ400 Next-Gen firewall offers anti-malware, anti-spyware, and intrusion prevention. Plus, you get anti-spam and protection against incoming email-based threats if you're configured for it.
And, if you work remotely, you're covered too. First, remote users can set up a secure VPN tunnel back into the home network. Each TZ400 can support 20 site-to-site VPN connections simultaneously.
Configure Your SonicWall TZ400 firewall
SonicWall TZ400 firewall
with your choice of Advanced Gateway Security, CATP, Gateway AV, Content Filtering, and much more!
Request A Quote
…and more features
One of the best things about the SonicWall TZ400 is that you can add modules, or features, as needed. It's an a la carte approach that's great for small to medium-sized businesses. In other words, businesses that may not need to pay for full-on enterprise level security. Nevertheless, it's quite easy to add the modules in when you decide to.
SonicWall's cloud-management and sandboxing is a cool feature worth mentioning. When any of the myriad SonicWall devices linked together in the cloud discovers an unknown malware, guess what it does? Shares it with every other SonicWall. So that unknown malware becomes famous to every SonicWall appliance everywhere that's using the SonicWall Capture Advanced Threat Protection module.
Generally speaking, SMB's don't assume they can afford this level of layered protection. But it's nice to know it's here. The SonicWall TZ400 is priced and powered into the higher-end of the SMB range. And with its modular feature set, it is hugely scalable. We'd love to tell you more about the SonicWall TZ400. So, why not give Corporate Armor a call at 877-449-0458, or reach out at [email protected]?
SonicWall TZ400 highlights
Total Firewall Throughput: 1.3 Gbps
Anti-malware Throughput: 600 Mbps
IPS Throughput: 900 Mbps
Threat Prevention Throughput: 600 Mbps
Have questions? Call 877-449-0458, or email us at

[email protected]

.
View all SonicWall lines.
---
Learn more