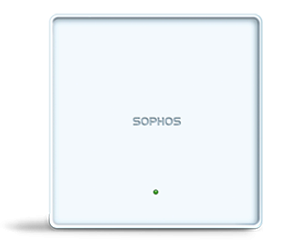 Sophos APX 120 Wireless Access Point
The Sophos APX 120 is the next step up in the Sophos family of Wave 2, 802.11ac access points. The APX series are do-it-all cloud managed access points. The APX 120 is a 2×2 MIMO, dual radio device with internal antennas. And please note that all Sophos access points require a wireless protection subscription. This can be done through Sophos Wireless Central, or through an XGS series firewall. The APX Series enables basic Synchronized Security with Sophos Endpoint, Sophos Mobile and Sophos Server when managed through Sophos Central. Sophos Central Wireless Standard (for APX) is available in 1, 2, and 3-year options.
On the other hand, Sophos XG Firewall offers advanced Synchronized Security with Sophos Endpoint and Sophos Server independent of the use of the Wireless Protection features.
Sophos APX 120 – How's it different than the APX 320?
Speeds and performance between the two are basically identical. And they both have 1x RJ45 10/100/1000 Ethernet w/PoE. But the APX 320 has 1x RJ45 connector console serial port, as well. Plus, it has 2 internal 5 GHz antennas for Radio-2 and 1 internal 2.4 GHz antenna for BLE.
Why does Wave 2 matter?
Good question. Even now, in 2021, Wave 1 isn't bad. It suits most people's purposes admirably, just like Wi-Fi 5 does (as opposed to the newer Wi-Fi 6). And unless you're using your Wi-Fi network for streaming and the processing of large files, Wave 1 is perfectly fine. However, as more devices begin joining wireless networks, the need for more power will increase.
Sophos APX 120 with Central Wireless Standard/1 user – REQUEST A QUOTE
Speed and the APX 120
Wave 2 Wireless is definitely much faster than Wave 1. Wave 2 access points like the APX 120 have speeds up to 6 Gbps, far outpacing Wave 1's 1.3 Gbps. Additionally, Wave 2 has four spatial streams compared to Wave 1's three. Speeds are proportional to the number of spatial streams they have, meaning Wave 2 is much faster. So users can process large files and access data more quickly.
Specs and capabilities of the APX 120
The APX 120 is much faster than its predecessor, the AP 55. Max Throughput is 867 Mbps on the 5 GHz band, and 300 Mbps on the 2.4 GHz band.
The inter-connectedness of the Sophos APX 120 gives you excellent visibility into wireless health, not to mention synchronized security. And it has rogue AP detection for additional security. This is an excellent access point for budget-sensitive projects with basic connectivity requirements.
Who's the APX 120 a good fit for?
It is well suited for small to medium sized businesses. A single APX 120 would be very good for a two story home or a small cafe.
If you would like to know more about the APX 120 or any other Sophos product, please email us or call Corporate Armor at 877-449-0458.
Read our review on the APX 120 here!
Have questions? Call 877-449-0458, or email us at

[email protected]

.
View all Sophos lines.