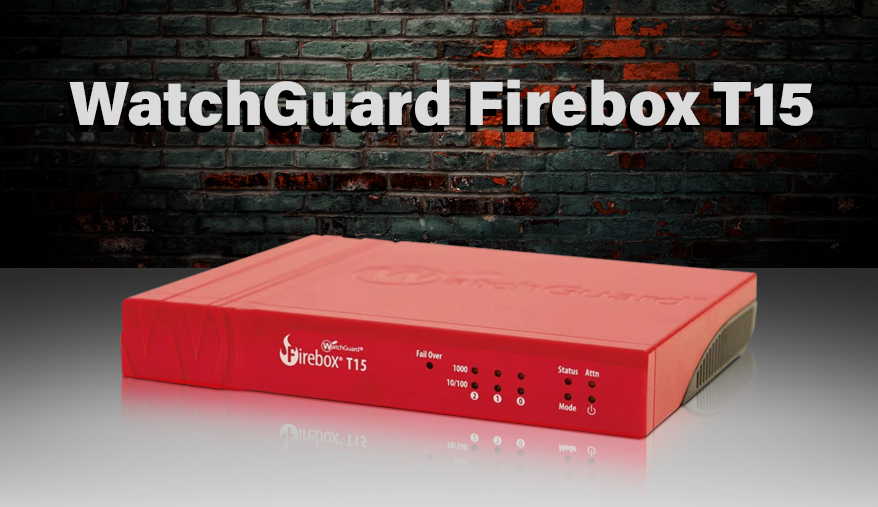 Meet the entry-point to WatchGuard's Firebox firewall family, the WatchGuard Firebox T15. It offers features that belie its small stature. It's excellent value too. It offers superb network security at a price small businesses will love.
Performance of the WatchGuard T15
The T15 runs a total firewall throughput of 400 Mbps. AV Throughput is 120 Mbps, IPS Throughput is 160 Mbps, and full UTM Throughput is up to 90 Mbps. It supports up to 5 users.
Cool features
The WatchGuard Firebox T15 is also available in a wireless model that includes optional dual-band 802.11b/g/n. This provides faster wireless connection, improved reliability, and expanded range on the 2.4 GHz or 5 GHz bands. Segmenting traffic for users and guests is easy with the built-in wireless guest network.
Establishing VPN tunnels between distant locations, like home and office, is easy with WatchGuard. In just a few clicks you can establish secure, encrypted connections between Fireboxes. Secure, encrypted connections that protect critical data and ensure confidentiality!
Network solutions today must adapt to changing conditions to optimize network performance and reduce costs. With SD-WAN built-in, the WatchGuard T15 makes it easy to reduce the use of expensive MPLS or 4G/LTE. This improves network resiliency, while maintaining security.
MORE cool features
Spam control is a snap. With the spamBlocker wizard, just select incoming SMTP traffic. Then provide an internal mail server address or just activate IMAP or POP3. This was set to append the subject line of dodgy messages with 'Spam', 'Bulk' or 'Suspect' tags. That way we could filter them out using Outlook message rules.
VPN support is tops. The WatchGuard T15 supports 5 site-to-site tunnels plus 5 mobile VPN clients. During setup, it also configures for Watchguard's Windows, iOS and Android clients.
The WatchGuard Application Control service has options for managing hundreds of apps. For example, you can block social media completely. Or, you can use any of the 11 behavioral entries to decide, for example, who can post 'likes', comment, chat, or edit their profile.
There's also lots of standard reporting tools provided. These include the web console's traffic monitor and clever FireWatch display.
WatchGuard's Total Security subscription enables web content filtering, application controls, anti-spam, and gateway antivirus. There's also has network discovery, IPS and reputation enabled defense. It also activates data loss prevention, Dimension Command and the advanced persistent threat blocker. It includes a Gold Support subscription. Total Security also includes WatchGuard's RED (reputation enabled defence) service. This delivers for even tougher web protection.
In summary
The WatchGuard Firebox T15 is ideal for larger organizations that want to extend easy-to-use VPN protection to remote workers.
With today's remote workforce, the idea of a distinct corporate network perimeter is basically gone. And it's no secret that attackers go for the weakest link when trying to get into a corporate network. That's usually a home office or small office user.
Security that can be easily deployed everywhere your network connects is now essential. The T15 is a cost-effective powerhouse that offers diverse VPN services, enabling flexible remote access connectivity.
We'd love to tell you more about the WatchGuard Firebox T15. So, why not give us a call at 877-449-0458? You can also reach out at [email protected]? Thanks for reading!
WatchGuard Firebox T15 highlights
| | |
| --- | --- |
| – Firewall Throughput – 400 Mbps | |
| – AV Throughput – 120 Mbps | |
| – IPS Throughput – 160 Mbps | |
| – UTM Throughput up to 90 Mbps | |
| – VPN Throughput – 150 Mbps | |