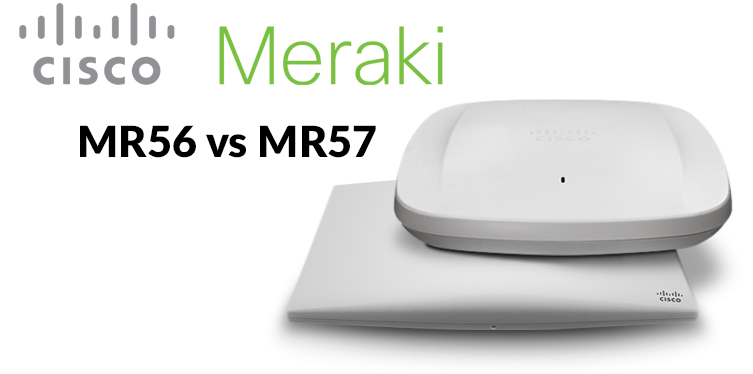 Meraki MR56 vs Meraki MR57: Is Wi-Fi 6E really that much better?
Wi-Fi 6 hardware is now common, and there's a good chance you have a Wi-Fi 6 network. But Wi-Fi 6E promises to reduce Wi-Fi congestion further. This begs several questions: What is Wi-Fi 6E? How does it compare to Wi-Fi 6? Is it really that much better? Is the Meraki MR57 that much more capable than the Meraki MR56?
What's so great about WiFi 6?
Here's the thing. In WiFi, bandwidth is shared among endpoint devices. And, when you are in a high-traffic are with lots of access points, their coverage areas will overlap. Think stadiums, concerts, or busy airports. So, as you walk through your airport, you can be moving from one access point to another.
Currently, your endpoint listens for an all-clear signal before transmitting. Basically, it waits it's turn to speak. So here you are, moving through your airport. Your endpoint (phone) is one of maybe thousands of APs and endpoints yelling and hiccuping at each other trying to be heard. It's sort of like the floor of the New York Stock Exchange. Get enough devices in the same area, efficiency and performance suffer.
So, what WiFi 6 does, is it opens up more lines for endpoints to talk on, so they don't have to wait as long for their turn. It also allows more data into each packet, which can increase total throughput nearly 40%.
On to Wi-Fi 6E
The Meraki MR57 has a feature called Tri-band configuration. Tri-band configuration unlocks the use of new spectrum in the 6GHz frequency range. It provides additional channels to increase throughput and reduce interference and noise from legacy devices. 6GHz support ensures that the MR57 supports future technologies.
WiFi 6E simply means WiFi 6 extended to the 6 GHz band. WiFi 6E works with the same standard as WiFi 6, but with an extended spectrum. 6 GHz is the new frequency band ranging from 5.925 GHz to 7.125 GHz, allowing up to 1,200 MHz of additional spectrum.
On existing bands, channels are currently crammed into the limited spectrum. But the 6 GHz band exists without overlap or interference. This means more bandwidth, faster speeds, and lower latency. It opens up resources for future innovations like in AR/VR, 8K streaming and more.
And the 6 GHz band is exclusive to WiFi 6E devices. This means 6 GHz networks don't need to slow down to accommodate older devices. As a result, WiFi 6E devices can take full advantage of the bandwidth, spectrum, and speed improvements of 6 GHz without competing with any non-6E devices.
To put it (very) briefly, Wi-Fi 6E delivers extended spectrum, better traffic management, improved user experience, and enhanced speed, reliability, and security.
Compare the Meraki MR56 and the MR57, then
The Meraki MR57 is a tri-band 4×4 enterprise-class Wi-Fi 6E cloud-managed access point. It supports 2.4 GHz, 5 GHz and the newly opened 6 GHz bands. It is designed for ultra high capacity and highest density. The MR57 also includes a Tri-band scanning radio dedicated to optimizing the RF environment and securing the airwaves using Air Marshal. It has dual 2.5Gb ethernet ports.
It pushes up to 8.35 Gbps aggregate frame rate with concurrent 2.4 GHz, 5 GHz and 6GHz radios. A dedicated fourth radio provides real-time WIDS/WIPS with automated RF optimization. And, a fifth integrated IoT radio delivers Bluetooth scanning and beaconing. This makes it perfect for high-density, performance-intensive environments.
The Meraki MR57 features easy-to-use security technologies for super-secure connectivity. There are advanced security features like AES hardware-based encryption and Enterprise authentication with 802.1X and Active Directory integration. This provides wired-like security while still being easy to configure. The MR57 will also support 192-bit encryption along with WPA3 support. Plus, it has an integrated Layer 7 firewall with mobile device policy management.
By contrast, the MR56 deploys a 5GHz 8×8:8 radio. This gives the access point a HUGE number of possible simultaneous connections. It also carries a 2.4 GHz 4×4:4 radio. And it churns at an impressive 5.9 Gbps aggregate frame rate.
In a nutshell
The MR57 can operate in 2.4GHz, 5GHz and 6GHz spectrum. Since there are three different spectrums, there's no overlap in the frequency space. This means a higher aggregate throughput compared to MR56.
Select your Meraki MR57
Meraki MR57 Wi-Fi 6E access point w/ Enterprise license
Select your Meraki MR56
Meraki MR56 Wi-Fi 6 Access Point with Advanced License:
Meraki MR56 vs Meraki MR57
| | |
| --- | --- |
| MR56 | MR57 |
| 8×8 MU-MIMO | 4×4 MU-MIMO |
| 5.9 Gbps aggregate frame rate | 8.35 Gbps aggregate frame rate |
| 2.4 GHz, 5 GHz dual-band | 2.4 GHz, 5 GHz, 6GHz Tri-band |
| 1- 5 Gbps Multigigabit Ethernet port | Dual 5 Gbps mGig ethernet port support |
Cool stuff about Wi-Fi 6E
Unlocks the use of new spectrum in the 6GHz frequency range
Allows up to 1,200 MHz of additional spectrum
More bandwidth, faster speeds, and lower latency
6 GHz networks don't need to slow down to accommodate older devices
Extended spectrum, better traffic management, user experience, and speed
So even though the MR57 lacks the MR56s' 8×8 radio, having multiple 4×4 capable radios makes the access point and RF much more efficient. Overall, real-world throughput for the MR57, even being a 4×4, will be higher than the MR56.
And yes, you're adding another, 6 GHz radio operating at 4×4 along with the 2.4 and 5 GHz ones. But the MR57 is able to handle full radio performance without increasing PoE budget. And it can be fully powered for all radios to be operational with a PoE+/802.3at compliant power source. In addition, the MR57 can aggregate two 5 Gbps capable mGig Ethernet inputs for an aggregate throughput of 10 Gbps.
And the MR57 can also be deployed in dual 5 GHz band. This really helps with isolating multiple clients between two 5 GHz channels while operating simultaneously. It effectively doubles the clients that can be serviced by the 5 GHz radio, providing more throughput.
The verdict
But the point of WiFi 6 and Wi-Fi 6E isn't primarily increased speed, though they are faster. Actually, it's designed more to enable much larger numbers of users. And, it also gives better coverage.
So, if you are operating in a high-density environment, these technologies are a good fit. Otherwise, good old WiFi 5 might be just fine for you in the foreseeable future.
But then, that's Corporate Armor is here for! We will happily and easily help you make a decision when you need assistance based on what's best for your unique case. We have many years of experience with Meraki. You can call 877-449-0458 any time. Or, you can reach us at [email protected]
View all Meraki lines.
---
Check out our additional Meraki content!