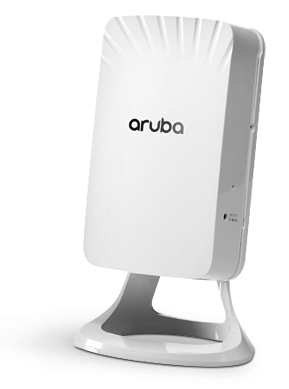 Aruba AP500H access point
The Aruba AP500H access point is a flat-out cost-effective 802.11ax device. Part of the 500 series along with the AP504, it's a Gigabit ethernet access point that simultaneously serve multiple clients and traffic types in dense environments. And, it boosts overall network performance by up to 400% compared to 802.11ac APs.
The Aruba AP505 has 1 RJ-45 network port, a USB port, and a PoE PD port, as well.
Arubas give good return on investment generally, and the AP505 is no exception. The AP505 proves you don't have to expect to pay a premium for Wi-Fi 6.
As with other Aruba APs. you cab run the AP505 one of two ways. Controller-based, or controlerless (Instant) mode.
When deployed with an Aruba Mobility Controller, the AP505 offers centralized configuration, data encryption, and policy enforcement. It will also give you network services and distributed and centralized traffic forwarding.
In controllerless (Instant) mode, the controller function is virtualized in a cluster of APs. As the network grows or requirements change, Instant deployments can easily migrate to controller-based mode.
Features
The Aruba AP505H features OFDMA, providing groundbreaking wireless capabilities for budget-conscious deployments. This allows the AP505 to handle multiple Wi-Fi 6 clients on each channel simultaneously. It doesn't matter what device or traffic type. Channel use is optimized by handling each transaction via smaller sub-carriers or resource units. This means that clients are sharing a channel and not competing for airtime and bandwidth.
Specs
The Aruba AP500H access point is a dual-radio, 2×2:2 MIMO indoor Wi-Fi 6 device. The 5GHz radio achieves up to 1.2 Gbps wireless data rate, and the 2.$GHz radio gets up to 287 Gbps. You can get up to 256 associated client devices per radio.
The Aruba AP 500 series is very well suited for organizations that need a large number of wireless access points and need simple intuitive management over them. And when it comes to Wi-Fi management, Aruba gives you the flexibility to choose. You can use an Instant access point or a controller to manage an entire cluster of access points. On the other hand, you can manage them with a cloud-based or an on-site network management platform.
And Corporate Armor gives you uninterrupted 5-star service and years of specialization in Aruba's whole family of products. So call us at 877-449-0458, or email us with any and all questions.
Aruba AP505H highlights
Choice of operating modes; Controller mode, and Aruba Instant mode
1.49 Gbps maximum real-world speed
Built-in technology that resolves sticky client issues for Wi-Fi 6 and Wi-Fi 5 devices
IoT-ready Bluetooth 5 and Zigbee support
OFDMA and MU-MIMO for enhanced multi-user efficiency
View all Aruba lines.
---
Learn more