CradlePoint CR4250 5G-Ready Router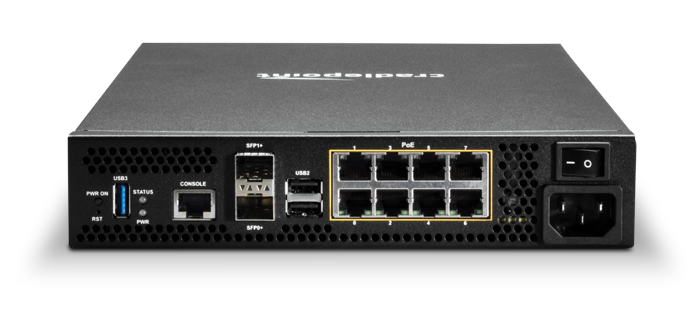 It doesn't matter whether you're connecting to a branch site, pop-up store, vehicle, or smart city. Your organization can always access critical cloud and data center applications and the Internet from anywhere with the CradlePoint CR4250 5G-Ready Router.
You can do it quickly, reliably, and securely. And, Cradlepoint's NetCloud Service provides everything you need to unlock the power of LTE and 5G for whatever's on the edge of your network. The Cradlepoint CR4250 router is designed for mid-sized branches and businesses with expanded performance needs. It intelligently manages WAN connectivity for a highly available "connected experience" at the edge.
Performance of the CradlePoint CR4250
The CradlePoint CR4250 has a high-performance processor to easily handle branch workloads while providing advanced features. Features like application-aware traffic analytics, firewall, intelligent SD-WAN and QoS. The built in firewall pushes 2.1 Gbps of Firewall Throughput. It also reaches 1 Gbps IPS Throughput, 1 Gbps Application Aware Service and Analytics, and 800 Mbps IPsec VPN Throughput. You can run 400 concurrent VPN tunnels, as well.
CradlePoint CR4250-PoE 5G-Ready Router w/ NetCloud Essentials for Branch Performance Routers (Prime):
CradlePoint CR4250-PoE 5G-Ready Router w/ NetCloud Essentials and Advanced for Branch Performance Routers:
NetCloud for Branch Performance
NetCloud Service for Branch Performance provides the enterprise capabilities that businesses need to connect all their locations and includes Centralized endpoint management with insights and visual analytics, 24×7 enterprise support and limited lifetime warranty, and On-demand training with Cradlepoint University.
In conclusion, if you have any further questions about Wi-Fi, LTE, or anything else, please email us or call 877-449-0458.
View all Cradlepoint lines.
---
Read more